Dengeki Daisy: Volume 13 manga review
By Leroy Douresseaux
November 28, 2013 - 14:02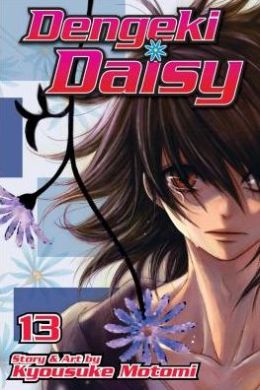 Dengeki Daisy Volume 13 cover image is courtesy of barnesandnoble.com.
Rated "T+" for "Older Teen"
Teru Kurebayshi is an orphan, who lost her beloved brother, Soichiro. She is not alone, however. Teru exchanges messages with DAISY, a mysterious figure who can only be reached through a cell phone her brother left her. Eventually, Teru learns that DAISY is Tasuku Kurosaki, a janitor who is always around when she needs him.

The mysterious "Antler" sent Teru and Kurosaki a drive containing M's Last Testament. As Dengeki Daisy, Vol. 13 (Chapters 60 to 64) opens, Boss (Masuda) and Kazumasa Ando AKA The Director join the effort to decipher the key to M's Last Testament. They bring on the eccentric Masumi Takeda to help them get access to a super-computer, which they will use for the deciphering. They're too busy to realize that Akira is spying on them, and they don't know how far he will go to get M's Last Testament.

Plus, a surprising clue takes them to Kagamiyama Private High School, which Teru attends. What's up with that? And who left this message slash clue slash invitation to a treasure hunt?

THE LOWDOWN: I previously wrote that when I first read the Dengeki Daisy manga, I saw it as another romantic tale featuring a beastly male love interest, which just so happened to be from the creator of Beast Master, Kyousuke Motomi. After reading Vol. 11, I saw the series as a kind of manga version of American television soap operas.

Now, after reading Dengeki Daisy Volume 13, I think it is a shojo romance manga as tech thriller. So, dear reader, I guess I should say that I (1) don't know what I don't know about this series and (2) should do what legendary college basketball coach, Bobby Knight, once suggested as the way to handle a rape-in-progress if you were the victim: relax and enjoy it.

Seriously, folks, Dengeki Daisy is a unique and good read. You certainly get your money's worth, as Motomi stuffs most pages with plenty of dialogue. You really will read Dengeki Daisy when you read Dengeki Daisy.

POSSIBLE AUDIENCE: Readers looking for something different in shojo romantic drama will want to try the Shojo Beat title, Dengeki Daisy.



Rating: A- /10
Last Updated: August 31, 2023 - 08:12