Dengeki Daisy: Volume 11 manga review
By Leroy Douresseaux
January 24, 2013 - 11:09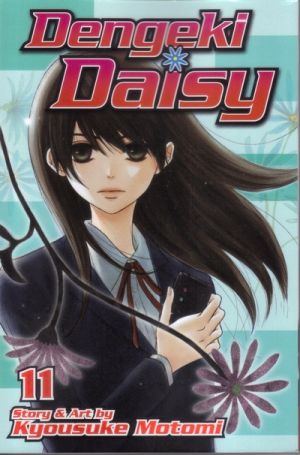 Dengeki Daisy Volume 11 cover image
Rated "T+" for "Older Teen"
Teru Kurebayshi, an orphan, lost her brother, Soichiro, but she wasn't alone. Teru exchanges messages with DAISY, a mysterious figure who can only be reached through a cell phone her brother left her. Eventually, Teru learns that DAISY is Tasuku Kurosaki, a janitor who is always around when she needs him.
As Dengeki Daisy, Vol. 11 opens, Teru is frustrated at the lingering fear she feels from the threat of Chiharu Mori and her flunky, Akira. Teru is glad that Kurosaki is around to protect her, but she also wants to be able to protect herself. Meanwhile, Teru's longtime friend, Kiyoshi Hasegawa, struggles with his deeply romantic feelings for Rena Ichinose, another friend of Teru's. But Rena already has a fiancé.
That fiancé is a shady-acting business man named Kazuki Morizono. His actions will give Teru a chance to show her strength. Morizono brings up Kurosaki's past as a hacker and endangers Rena. Can Teru protect her friend?
THE LOWDOWN: After first reading the Dengeki Daisy manga, I saw it as another romantic tale featuring a beastly male love interest, from the creator of Beast Master, Kyousuke Motomi. After reading Dengeki Daisy Volume 11, I now see it as a kind of manga version of American television soap operas. Why?
Dengeki Daisy borrows from several genres. It has a high school romance. The male love interest is an older man, while the female is a high school student, so there is a tad bit of a tawdry true romance feel to it. Kurosaki's past as a hacker and Teru's late brother's life as a programmer adds an espionage angle. The series is also a light suspense thriller because of the threats of violence, personal destruction, and kidnapping. I could see a young Susan Lucci as perfect for a dramatization of this.
I like the soap opera and melodrama. This is a shojo high school romance that is not as comic as some shojo romances and is darker, in a theatrical way, than most.
POSSIBLE AUDIENCE: Readers looking for shojo romantic drama will like the Shojo Beat title, Dengeki Daisy.
Rating: A- /10
Last Updated: August 31, 2023 - 08:12