Dengeki Daisy: Volume 3
By Leroy Douresseaux
December 29, 2010 - 10:01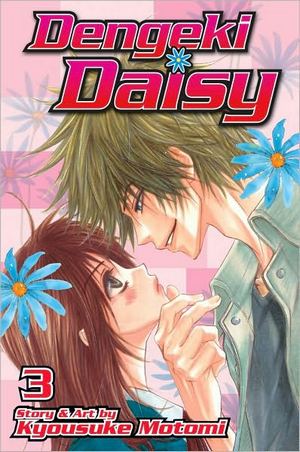 Dengeki Daisy Volume 3 cover image is courtesy of barnesandnoble.com.
Rated "T+" for "Older Teen"
An orphan, Teru Kurebayshi also lost her brother, Soichiro, but she wasn't alone. Teru exchanges messages with DAISY, a mysterious figure who can only be reached through a cell phone her brother left her. Meanwhile, another mysterious figure comes into Teru's life; Tasuku Kurosaki, a janitor, is always around when she needs him.
As Dengeki Daisy, Vol. 3 opens, Teru moves out of Kurosaki's apartment and moves in with her friend, Riko Onizuka, but where the two young women move will be a surprise. Then, a dark figure from her and her brother's past returns to visit Teru, but he wants something. Also, Teru gets closer to discovering DAISY's identity.
THE LOWDOWN: The creator of Beast Master, Kyousuke Motomi, presents another romantic tale feature a beastly male love interest. Tasuku Kurosaki isn't an animal, but he is exceedingly stern with Teru, which not only gives the story a bit of an edge, but also keeps the conflict going.
This is a story that needs edge and conflict, because, in spite of the humorous moments, Dengeki Daisy is a romantic drama. Since the readers know who DAISY is, the narrative focuses not on solving a mystery, but rather on the notion that the romance at the center is equally destined-to-be and doomed-to-failure. This is a bit darker than the typical romance-shojo and is similar in tone to Nana, but for a younger audience. Unlike Nana, Dengeki Daisy is more mood than character, so hopefully the series will strengthen the characters as it continues.
POSSIBLE AUDIENCE: Readers looking for shojo romantic drama will like Dengeki Daisy.
B

For more me, please, visit www.negromancer.com.
Last Updated: August 31, 2023 - 08:12