The Demon Prince of Momochi House: Volume 7 manga review
By Leroy Douresseaux
January 6, 2017 - 22:05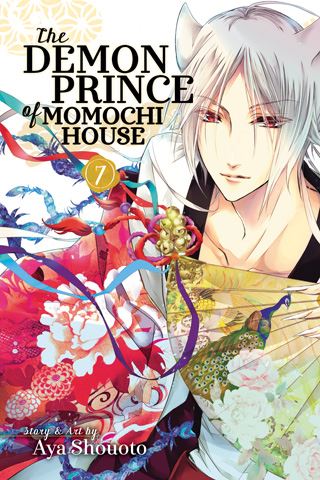 The Demon Prince of Momochi House Volume 7
Rated "T" for "Teen"
On her 16th birthday,
Himari Momochi
learns that she has inherited an old house located deep in the woods. She has never seen this domicile, which is called the
Momochi House
, and does not know that it already has three inhabitants. One of them, 17-year-old
Aoi Nanamori
, is the "
Nue
," the "Demon Prince" of Momochi House.
The Demon Prince of Momochi House

, Vol. 7
(Chapters 24 to 27) opens with the
Kagome Park Ghost
. Yes, there is such a thing, and Himari has seen him. Now, she and her classmates are taking a field trip (of sorts) to hunt the ghost. What Himari does not realize is that there is more to this ghost than she can possibly imagine – including a connection to Aoi.
THE LOWDOWN:
The Demon Prince of Momochi House
manga is one of those manga that are filled with a genuine sense of the supernatural. I have said that before and will continue to say so, especially after the latest volume
The Demon Prince of Momochi House Volume 7
is a beautiful story. Creator
Aya Shouoto
does some of her best storytelling in this origin of co-lead Aoi Nanamori. This series is a feast of fantasy, and I highly recommend it to fans looking not just for fantasy comics, but also for good comics in general. If comics should be good,
The Demon Prince of Momochi House
is.
POSSIBLE AUDIENCE:
Fans of high school-age supernatural romance and of yokai fiction will want to visit the "Shojo Beat" title,
The Demon Prince of Momochi House
.
A+
Rating: A+ /10
Last Updated: January 24, 2022 - 11:00