The Demon Prince of Momochi House: Volume 6 manga review
By Leroy Douresseaux
October 4, 2016 - 20:02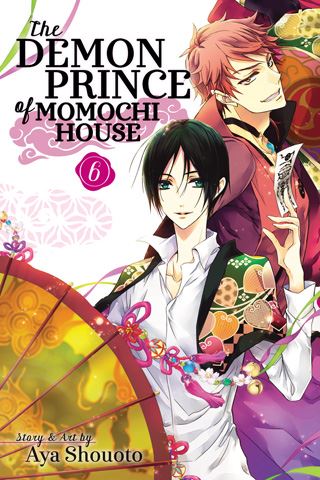 The Demon Prince of Momochi House Volume 6 cover image
Rated "T" for "Teen"

On the occasion of her 16th birthday,
Himari Momochi
learns that she has inherited an old house located deep in the woods. She has never seen this domicile, which is called the
Momochi House
, and does not know that it already has three inhabitants. One of them, 17-year-old
Aoi Nanamori
, is the "Nue," the "
Demon Prince
" of Momochi House.
The Demon Prince of Momochi House

, Vol. 6
(Chapters 20 to 23) opens with Himari still reeling from Aoi's rejection of her romantic feelings for him. Although she tries to act like things have remained the same, the two are awkward around each other. Then, Aoi starts to have trouble handling his powers, causing Momochi House to be overrun by small, troublesome
ayakashi
(yokai).
Meanwhile, the classical lit teacher,
Takamura Nachi
, proves to be quite nosy and wants to know about Momochi House from Himari. Plus, he has a "Seeing Mirror," which is said to reflect the true feelings of its beholder. Also,
Nekobaba
pays a visit and puts pressure on Himari.
[This volume includes the bonus story, "Child's Play."]
THE LOWDOWN:
I have previously written that
The Demon Prince of Momochi House
manga is one of those manga that are filled with a genuine sense of the supernatural and that magic permeates this narrative. That appeals to fans of yokai; after all, the formula: yokai + shojo = I'm a sucker for it. So I love creator Aya Shouoto's focus on "ayakashi" (apparently an old term for yokai) and her wonderful blend of strange creatures makes for exciting reading.
The Demon Prince of Momochi House Volume 6
is dark and lovely. Every page in this volume seems infused with the hauntings of ghost stories and the ghosts themselves. Even the bonus story is a chilling little gem. A visit from the delightfully giant Nekobaba and the trouble that damn mirror causes complete a feast of fantasy.
POSSIBLE AUDIENCE:
Fans of high school-age supernatural romance and of yokai will want to visit the "Shojo Beat" title,
The Demon Prince of Momochi House
.
A
Rating: A /10
Last Updated: January 24, 2022 - 11:00