The Demon Prince of Momochi House: Volume 5 manga review
By Leroy Douresseaux
July 9, 2016 - 23:43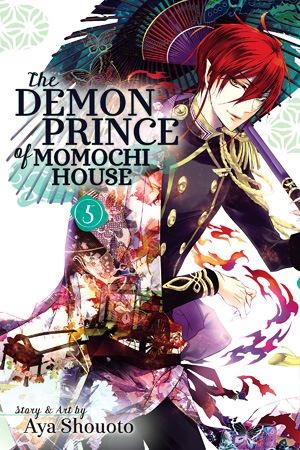 The Demon Prince of Momochi House Volume 5 cover image
Rated "T" for "Teen"
On her 16th birthday,
Himari Momochi
learns that she has inherited an old house located deep in the woods. She has never seen this domicile, which is called the
Momochi House
, and does not know that it already has three inhabitants. One of them, 17-year-old
Aoi Nanamori
, is the "
Nue
," the "Demon Prince" of Momochi House.
The Demon Prince of Momochi House

, Vol. 5
(Chapters 16 to 19) opens in the full throat of the summer heat. The idea that comes to our heroes is that they travel to the
Spiritual Realm
for a break. Before long, Hamari and Aoi and the Nue's shikigami,
Ise
and
Yukari
, are enjoying one of the "
Seven Sacred Falls
." However, tainted water arrives to kill the fun. Where is
Ryujin
, the dragon god who protects the waters? The history of Yukari may answer that question.
THE LOWDOWN:
The Demon Prince of Momochi House
manga is one of those manga that are filled with a genuine sense of the supernatural. Magic permeates this narrative which will appeal to fans of yokai. Creator
Aya Shouoto
focuses on "ayakashi" (apparently an old term for yokai), and her wonderful blend of strange creatures is enchanting.
The Demon Prince of Momochi House Volume 5
focuses on the history of one of the main characters, Yukari. His is a story that is poignant and enlightening. It is followed by a tale of duplicity, flirtation, and young romance that is as funny as the tale of Yukari is dramatic. I have said that
The Demon Prince of Momochi House
has potential, and it is reaching it.
POSSIBLE AUDIENCE:
Fans of high school-age supernatural romance and of yokai will want to visit The Demon Prince of Momochi House.
A
Rating: A /10
Last Updated: January 24, 2022 - 11:00