The Demon Prince of Momochi House: Volume 3 manga review
By Leroy Douresseaux
December 31, 2015 - 20:17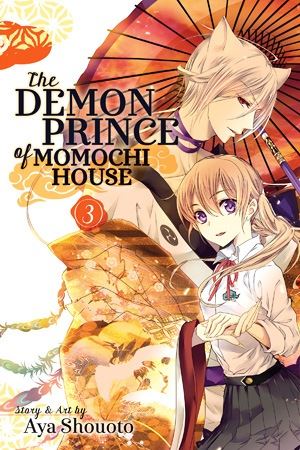 The Demon Prince of Momochi House Volume 3 cover image
Rated "T" for "Teen"
On her 16th birthday,
Himari Momochi
learns that she has inherited an old house located deep in the woods. She has never seen this domicile, which is called the
Momochi House
, and does not know that it already has three inhabitants. One of them, 17-year-old
Aoi Nanamori
, is the "
Nue
," the "Demon Prince" of Momochi House.
As
The Demon Prince of Momochi House

, Vol. 3
(Chapters 8 to 11) opens, Himari struggles to discover which of the four school friends that are visiting her is a ghost. That ghostly identity reveals something that troubles Aoi greatly. Then, Himari accompanies Nue, Aoi's alter ego, farther into the house than she has ever gone. The trip reveals a great task that burdens Nue, and this time Himari will find herself involved.
THE LOWDOWN:
The Demon Prince of Momochi House
manga appeals to me as a fan of yokai. This series, created by
Aya Shouoto
, focuses on "ayakashi," apparently an old term for yokai. It is still early in the series, and Shouto is still opening the world to her readers. It is as if each new door of Momochi House offers a new world.
The Demon Prince of Momochi House Volume 3
exemplifies that. We get new obstacles, obligations, and adversaries. Sometimes, fantasy fiction can be trapped in a house when all the magic is inside a confined space. Vol. 3 suggests that this will not be a problem for the series. The house seems open, and so this manga presents a world of possibilities. Suddenly, I want more because I think that this series has potential, and I think yokai fans will welcome that.
POSSIBLE AUDIENCE:
Fans of high school-age supernatural romance and of yokai will want to visit
The Demon Prince of Momochi House
.
Rating: A- /10
Last Updated: January 24, 2022 - 11:00