The Demon Prince of Momochi House: Volume 1

By Leroy Douresseaux
July 9, 2015 - 19:50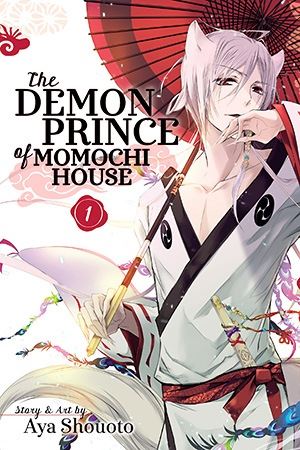 The Demon Prince of Momochi House Volume 1 cover image
Rated "T" for "Teen"
On her 16th birthday,
Himari Momochi
inherits an old house in the woods that she has never seen. She does not know that it is called the
Momochi House
and that it already has three inhabitants. One of them is practically the "Demon Prince" of Momochi House.
The Demon Prince of Momochi House

, Vol. 1
(Chapters 1 to 3) opens with Himari deep in the mountains looking for the ancestral estate, Momochi House. A local warns her to avoid the house because she will be cursed by the "
Omamori-sama
." When she finally finds the house, she discovers that the place is practically a wreck, and that three squatters live there.
Seventeen-year-old
Aoi Nanamori
seems to be the leader, while
Yukari
and
Ise
just seem like lazy guys looking for a place to stay. There is, however, more than meets the eye, as she learns that Momochi House is a barrier between the human and spiritual realms. The house may have even more residents, and Aoi... handsome Aoi has a secret.
THE LOWDOWN:
I am a sucker for a yokai-themed manga, and
The Demon Prince of Momochi House
manga focuses on "
ayakashi
," an apparent old term for yokai. Demons and spirits aside, this is, like other manga from creator
Aya Shouoto
, a shojo manga.
The Demon Prince of Momochi House Volume 1
quickly establishes a budding and complicated romance between Himari and Aoi. This series seems as if it will be both a supernatural romance and a high school romantic drama. It has potential, but, other than establishing the dynamics between the leads,
The Demon Prince of Momochi House
is a bit unformed after three chapters, which is what makes up this first graphic novel in the series.
POSSIBLE AUDIENCE:
Fans of high school-age supernatural romance will want to try
The Demon Prince of Momochi House
.
Rating: B /10
Last Updated: August 31, 2023 - 08:12