Demon Love Spell: Volume 3 manga review
By Leroy Douresseaux
June 16, 2013 - 16:52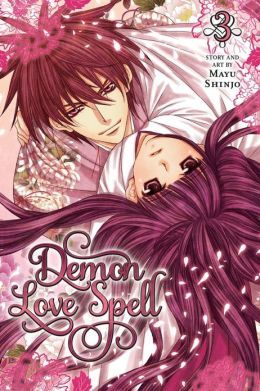 Demon Love Spell Volume 3 cover image is courtesy of barnesandnoble.com.
Rated "T" for "Teen"
Miko Tsubaki, a young shrine maiden, is trying to be like her father, Gyotoku Tsubaki. He is the head priest of the Otsubaki Shrine and a master at banishing demons and other spirits. Miko is not good at seeing or banishing spirits, but she tries to banish a demon that is possessing Kagura, a teen lothario. However, it turns out that Kagura is really an incubus who needs female contact in order to gain power. Miko's spell turns Kagura into the size of mouse, and now's he's in love with her.
As Demon Love Spell, Vol. 3 opens, Miko and her family are enjoying the latest adventures of Yamabuki the Onmyoji. There are also other things on her mind. Suddenly, Miko is popular with the boys of Shueikan High School, and they're asking her out, which they absolutely did not do before. She wonders if she is possessed by a demon that is using its power to make her suddenly attractive to young men. Enter Yamabuki, who was once a student of Gyotoku. He is ready to remove any demons from Miko's life, including Kagura.
Then, Miyuki the snow demon comes into Miko's life, and he wants her as his own. At the same time, Miko and Kagura have a fight, and her words may send Kagura away for good. That makes Miyuki happy, but will it make Miko happy?
THE LOWDOWN: Since I have been reading it, I've found the Demon Love Spell manga an especially pleasant read, until now. It's still pleasant, just not "especially." The two stories that make up Demon Love Spell Volume 3 are repetitive in terms of dealing with Miko. I've grown tired of her vacillating – Do I love him/Do I not?
The guest stars that make Vol. 3 fun. The conniving Yamabuki the Onmyoji is mysterious, and his motivations are as vague and shifting as they are obvious – being obvious when Miko is the subject. Of Miyuki, I can only say, without being a spoiler, that I hope he returns. His tale is poignant and engaging, and he could be a star in his own series.
POSSIBLE AUDIENCE: Readers who like supernatural romantic comedies will like the Shojo Beat series, Demon Love Spell.
Rating: B+ /10
Last Updated: August 31, 2023 - 08:12