Demon Love Spell: Volume 5 manga review
By Leroy Douresseaux
November 29, 2013 - 15:33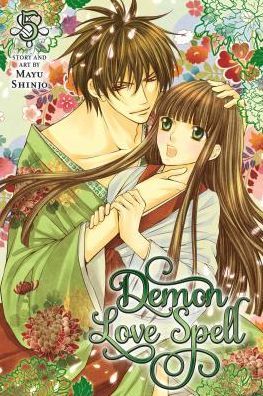 Demon Love Spell Volume 5 cover image is courtesy of barnesandnoble.com.
Rated "T+" for "Older Teen"
The young shrine maiden,
Miko Tsubaki
, is trying to be like her father,
Gyotoku Tsubaki
. The elder Tsubaki is the head priest of the Otsubaki Shrine and is also a master at banishing demons and other spirits. Miko is not good at seeing or banishing spirits, but she still makes an attempt to banish a demon that is possessing
Kagura
, a teen lothario. However, it turns out that Kagura is really an incubus who needs female contact in order to gain power. Miko's spell turns Kagura into the size of mouse, and now's he's in love with her.
Demon Love Spell

, Vol. 5
opens with "The Chapter of a New Departure. Kagura and Miko ask her father to allow them to live together, and he consents. He tells, them, however, that they are completely on their own. But doesn't it seem as if he consented a little too quickly? Gyotoku Tsubaki has another little surprise that will keep Kagura's lusts in check.
In "The Chapter of a New Job," Kagura believes that Miko is working too much, as she works two jobs. Kagura does understand that humans need to work in order to make money, because they need money to live. He thinks that he needs to make money. In steps,
Airi Himemiya
of
Love Productions
, who promises to make Kagura a star and make him some money. Meanwhile, Kanzaki, the manager of the restaurant where Miko works, tries to become her new love interest.
[This volume contains a bonus story, "In Her Dreams."]
THE LOWDOWN:
The
Demon Love Spell
manga can be silly, but it can also be sexy.
Demon Love Spell Volume
5 is all about being a sexy romp. With the two stories in this volume, creator
Mayu Shinjo
, has fun by emphasizing Kagura's allure. He's a hot, sexy young man, randy with the need for intimate female contact. When he's in pain, he writhes from the discomfort. Vol. 5 is all about the 3 H's: hot, heavy, and horny.
But hold on! I think that Shinjo realizes that once her two leads do "the do," the story will not be the same. The series is all about the chase, and as fun as them consummating their love may be, the will-they-or-won't-they is more fun.
POSSIBLE AUDIENCE:
Readers who like sexy, supernatural romantic comedies will like the Shojo Beat series,
Demon Love Spell
.
Rating: A- /10
Last Updated: August 31, 2023 - 08:12