Demon Love Spell: Volume 2 manga review
By Leroy Douresseaux
February 27, 2013 - 15:35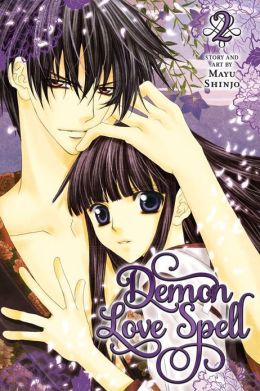 Demon Love Spell Volume 2 cover image is courtesy of barnesandnoble.com.
Rated "T" for "Teen"
The young shrine maiden Miko Tsubaki is trying to follow in her father's footsteps. Gyotoku Tsubaki is the head priest of the Otsubaki Shrine and a master at banishing demons and other spirits. Miko is not good at seeing or banishing spirits, but she tries to banish a demon that is possessing Kagura, a teen lothario. However, Kagura is really an incubus who needs female contact to gain power. Miko's spell turns Kagura into the size of mouse, and now's he's in love with her.
As Demon Love Spell, Vol. 2 opens, Miko meets a fox spirit, whom she calls Mr. Fox, and he has fond memories of her. She simply does not remember him. Meanwhile, Shuto, an unattractive young demon, is faced with the destruction of his sister, Ruri, who is being held prisoner by a nasty fellow demon. Desperately in need of power to free Ruri, Shuto focuses on Kagura, who is quite powerful, with Miko caught in the middle.
Meanwhile, Kagura keeps making advances on Miko. The two agree on a day when Kagura can freely be affectionate, calling it "Lovey Dovey Day." Neither, however, seems good at following the rules set for that special day.
THE LOWDOWN: As far as supernatural romantic comedies (of the Shojo Beat variety) go, the Demon Love Spell manga is an exceptionally pleasant read. Demon Love Spell is the creation Mayu Shinjo (Ai Ore!), who is good at spinning love stories about mismatched, but lusty young couples.
Beyond saying that I enjoy reading it, I can't say why I think that this is a good series. Demon Love Spell simply strikes the right notes, and it has obviously cast a spell on me. Also, the art is very pretty. That is always part of the enchantment when it comes to my love of shojo.
POSSIBLE AUDIENCE: Readers that like supernatural romantic comedies will like the new Shojo Beat series, Demon Love Spell.
Rating: A- /10
Last Updated: May 19, 2020 - 12:25