Demon Love Spell: Volume 1 manga review
By Leroy Douresseaux
December 5, 2012 - 13:02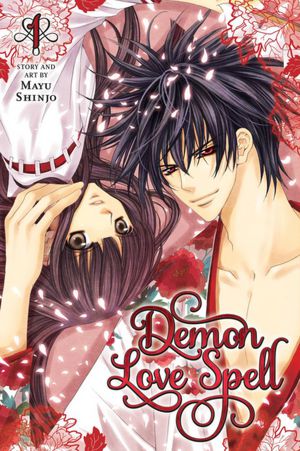 Demon Love Spell Volume 1 cover image is courtesy of barnesandnoble.com.
Rated "T" for "Teen"
Readers already enjoying Ai Ore! from manga creator, Mayu Shinjo, have another series by her to enjoy. VIZ Media has started publishing Shinjo's Demon Love Spell.
The star of Demon Love Spell is Miko Tsubaki, a young shrine maiden who is trying to follow in her father's footsteps. Gyotoku Tsubaki is the head priest of the Otsubaki Shrine and is a master at banishing demons and other assorted spirits. Miko is not good at seeing or banishing spirits.
As Demon Love Spell, Vol. 1 opens, Miko learns that her friend, Shino, has been spurned by Kagura, a teen lothario. Miko believes that any boy who loves and then rejects so many young women must be possessed. One spell later and Miko learns that Kagura is not possessed by a demon, he is a demon – specifically an incubus who needs female contact to gain power. Now, the size of mouse, Kagura is demanding that Miko, who forgot the spell she used on him, return him to normal size. Plus, he's in love with her.
THE LOWDOWN: Girls in love with otherworldly boys seem to be a staple of shojo manga. The Demon Love Spell manga is a mixture of paranormal romance and supernatural comedy, and creator Mayu Shinjo does both quite well. There is much sexual tension between Miko and Kagura. She desires him, but fights her desire to the point of confusing herself. He wants her, but is he in love? Who can ever trust the motivations of a demon whose very life depends on the sexual/amorous energy he gets from the teen girls he woos?
Shinjo mines everything for comedy. There are scaredy-cat friends, exasperated demons, ill-timed bickering, goofy parents, and young lust. Because of Fawn Lau's excellent design work on the book, Demon Love Spell Volume 1 looks like it is going to deliver a lot of good stuff. It does, and I hope the series will remain a good one.
POSSIBLE AUDIENCE: Readers who like supernatural romantic comedies will like the new Shojo Beat series, Demon Love Spell.
Rating: A /10
Last Updated: May 19, 2020 - 12:25