Comics / Comic Reviews / Marvel Comics
Defenders #1 comics review

By Leroy Douresseaux
July 9, 2017 - 21:55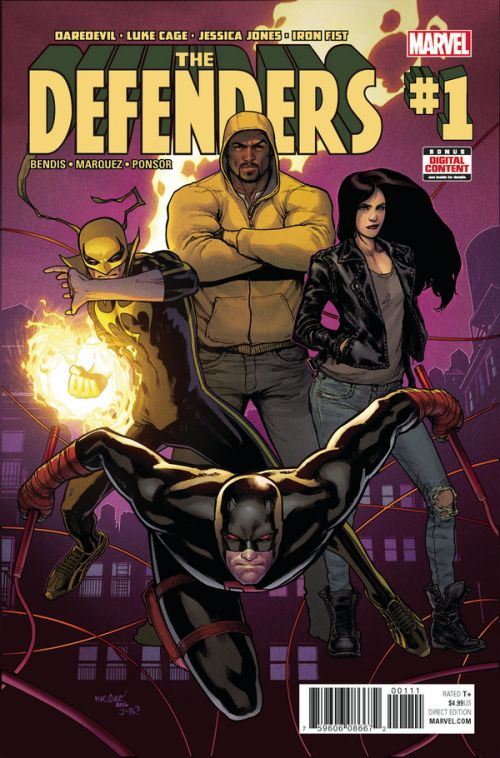 Defenders #1 cover image
Rated T+
The Defenders is a Marvel Comics superhero team. The original version of the team first appeared in the comic book,
Marvel Feature
#1 (cover dated: December 1971). The team's original lineup included the characters Doctor Strange, Hulk, and Namor. Since that time, there have been several versions of the team with differing and fluctuating memberships, and differing mission statements from team to team.
Now, Marvel Comics is introducing a new version in the new comic book series, Defenders. It is written by
Brian Michael Bendis
; drawn by
David Marquez
; colored by
Justin Ponsor
; and lettered by
Corey Petit
. The members of the Defenders are
Daredevil
,
Luke Cage
,
Jessica Jones
, and
Iron Fist
– the lineup that will be featured in the Marvel/Netflix series, "Defenders."
Defenders

#1
opens with the return of a villain that was supposed to be dead,
Diamondback
. He is determined to prove to everyone that the streets of New York City are his. When he launches an attack on a Defender, he gets to prove just how formidable he is, but is it enough?
THE LOWDOWN:
I remember reading The Defenders comic book series in the 1980s, and it was terrible. I kept reading it because I thought that it had the kind of characters that could yield a really good comic book, but it never did, in my estimation. I abandoned it, and never read a Defenders comic book again – not even
Secret Defenders
... until now.
I believe in Brian Michael Bendis, so that is why I picked up this new Defenders comic book. Plus, Bendis is working with artist David Marquez, with whom Bendis produced a nice run on
Miles Morales: Ultimate Spider-Man
and on
Invincible Iron Man
. So how is the latest Bendis-Marquez joint?
I like it, but not for the reasons you might normally guess, dear reader. I like this depiction of Diamondback. I am intrigued by everything about him – his character, his motivations, his machinations. I can't say that I particularly care about these individual Defenders, at least not yet, but I'm sure that Bendis will work on that. If there is one thing he does very well, it is produce page after page of dialogue, philosophizing, blather, rumination, etc. that make for great character probing.
Marquez's satiny compositions and Justin Ponsor's rich colors hit the eyes with milk shake smoothness. The mood of the story constantly shifts, however, and the character drama seems to meander. Where Marquez and Ponsor really shine is on Diamondback. The art makes you believe he is every bit as bad-ass as Luke Cage.
I am willing to follow this series for a bit because of my affinity for Bendis with Marquez, but I won't lie. This is not standout material, overall, and I expected more from this team for a first issue. But I want to see where Diamondback takes crusade.
I READS YOU RECOMMENDS:
Fans of the creative team, the characters, and/or The Defenders "brand" will want to give the new Defenders a try.
B+
7.5 out of 10
Rating: 7.5 /10
Last Updated: January 24, 2022 - 11:00