Death Note Black Edition: Volume 1
By Leroy Douresseaux
Jan 6, 2011 - 10:27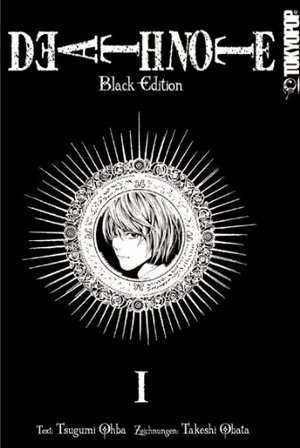 Death Note Black Edition Volume 1 cover image
Rated "OT" for "Older Teen"
Death Note is a shonen manga from the creative team of writer Tsugumi Ohba and artist Takeshi Obata. It remains popular long after its conclusion and was collected in 12 tankoubon or trade paperbacks, with a 13th volume that acted as a guide to and encyclopedia of the series. VIZ Media publishes Death Note in North America, and they've recently begun republishing the series in a new, mini-omnibus format entitled, Death Note Black Edition.
Death Note Black Edition, Vol. 1 collects Death Note, Vols. 1-2. Vol. 1 introduces the two bored individuals who kick off a murder spree. Light Yagami is a high school student with great prospects for his future, but in spite of his academic achievements, Light is bored. Ryuk is a Shinigami (a death god), and he is bored out of his mind with the sorry state of affairs in the Realm of the Shinigami. To have some fun, Ryuk deliberately drops his Death Note into the human world. The Death Note is a notebook, and any human whose name is written on a page within the notebook dies.
After finding the Death Note, Light decides to use the supernatural notebook to rid the world of evil – especially of the vilest criminals. After criminals start dropping dead in large numbers, a legendary detective named "L" leads the investigation to learn the identity of this killer of criminals, a killer they name "Kira." The rest of Vol. 1 and all of Vol. 2 depict the cat and mouse game between L and Light/Kira. As L gathers a small group of dedicated detectives around him, including Light's father, Chief Yagami, Light fights back and begins killing more people, including non-criminals.
THE LOWDOWN: The first point to make about Death Note Black Edition is that instead of paying 9.99 each for a total of $19.98 to read the first two volumes of Death Note, readers can get those two books in one handy volume at the cost of $14.99. Also, the Black Edition's dimensions (5.5 x 8.5 in.) are larger than the size of the standard VIZ Media paperback.
Price aside, Death Note is an excellent fantasy series that, at its heart, is a detective series. It is as riveting as a mystery thriller, and it has a real world edge in spite of Ryuk's presence. Tsugumi Ohba is a thoughtful, imaginative writer who composes tight plots, but weaves narratives that offer flights of fancy and spry, engaging characters. A strong visual and graphical storyteller, Takeshi Obata offers compositions that create the tense mood and razor-sharp edge this story needs, but he is also as inventive as an artist drawing a fantasy comic book.
POSSIBLE AUDIENCE: Readers looking for unusual crime comics and good comics in general will want Death Note Black Edition.
A-

For more Leroy, please, visit www.negromancer.com.
Last Updated: Jun 26, 2018 - 9:28