Deadman Wonderland: Volume 4 review
By Leroy Douresseaux
August 13, 2014 - 10:28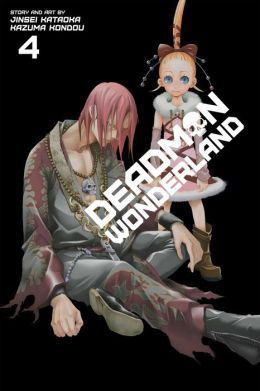 Deadman Wonderland Volume 4 cover image is courtesy of barnesandnoble.com.
Follow me on
Twitter
.
Rated "T+" for Older Teen
The Great Tokyo Earthquake put 70% of Japan underwater; that was ten years ago. Now, in near-future Japan,
Deadman Wonderland
, a privately run, carnival-like penitentiary, has risen from the ruins of Tokyo. This bizarre and fatal theme park is a place where the prison bosses force the inmates to perform in notorious gladiatorial fights to the death. Fourteen-year-old
Ganta Igarashi
is one of the newest inmates, sentenced to death for a crime that he did not commit.
Deadman Wonderland

, Vol. 4
(Chapters 13 to 16) opens, Ganta is introduced to the members of the anti-establishment group,
Scar Chain
. The leader,
Nagi Kengamine
a/k/a "
Owl
," informs Ganta that a government select committee is set to inspect Deadman Wonderland. Scar Chain will use the visit as an opportunity to get a data chip, containing information of the truth about the prison, to one of the visiting inspectors.
But there is a traitor in their midst. Awaiting their plot are
The Undertakers
, a unit specifically formed to mercilessly stamp out the rebels. Ganta is handed an important task, one that will affect his close relationship with a fellow inmate.
THE LOWDOWN:
As I have written before, VIZ Media's plans to publish the
Deadman Wonderland
manga on a bimonthly basis is a good move. Something is always happening; there is a big reveal practically every few pages. Thus, this 13-volume graphic novel series, which reads likes a serialized science fiction comic book, needs a short publishing schedule. We need to read it while the narrative and the reveals are keeping us piping hot for the next volume.
Deadman Wonderland Volume 4
reveals that allies can be enemies and that some enemies are not what they seem to be on the surface. Plus, there is a huge misunderstanding with some heartbreak.
Deadman Wonderland
is not escapist sci-fi, but it is a breathless read like the best escapist fiction. It is a good read, one that will demand that you do not miss a volume.
POSSIBLE AUDIENCE:
Readers who like shonen science fiction action will want to try
Deadman Wonderland
.
Rating: A /10
Last Updated: August 31, 2023 - 08:12