Deadman Wonderland: Volume 3 manga review
By Leroy Douresseaux
June 10, 2014 - 17:27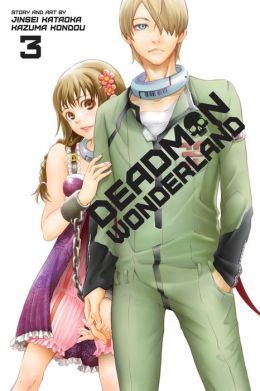 Deadman Wonderland Volume 3 cover image is courtesy of barnesandnoble.com.
Follow me on Twitter.
Rated "T+" for Older Teen
Ten years prior, the Great Tokyo Earthquake put 70% of Japan underwater. In this near-future version of Japan, Deadman Wonderland, a privately run, carnival-like penitentiary, has risen from the ruins of Tokyo. This bizarre and fatal theme park is a place where the prison bosses force the inmates to perform in notorious gladiatorial fights to the death. Fourteen-year-old Ganta Igarashi is one of the newest inmates, sentenced to death for a crime that he did not commit.
Deadman Wonderland, Vol. 3 (Chapters 9 to 12) opens, Ganta meets Minatsuki, a new inmate with a tragic story. She isn't everything she seems to be, however. Meanwhile, Ganta's success in "Corpse Carnival" (the fighting ring) earns a new nickname for his power, "Ganta's gun."
Ganta also rediscovers that he has a past with his friend, Shiro, the girl with the long blond hair and the amazing fighting skills. Plus, it's time for the "Punishment Game," and a meeting with "Scar Chain."
THE LOWDOWN: VIZ Media's plans to publish the Deadman Wonderland manga on a bimonthly basis is a good move. This 13-volume graphic novel series reads likes a serialized science fiction comic book, so there should not be long waits between releases of new volumes. Deadman Wonderland creators, writer Jinsei Kataoka and artist Kazuma Kondou, apparently do not believe in static narratives, because they are always revealing something both new and crucial to the story.
Deadman Wonderland Volume 3 offers still more revelations about Ganta and his powers. We also see more connectivity between characters, settings, and subplots, all of it meant to keep readers coming back.
I think Deadman Wonderland is also a timely release. In our real world, especially in the United States, the private prison industry continues to grow, as scandals concerning its abuses, corruption, and sometimes criminal behavior grow around it. In this series, the wealthy and powerful, the one-percent if you will, use incarceration to entertain the masses while they seek to exploit a minority with a wealth of power they want to control and even replicate. Deadman Wonderland is NOT escapist sci-fi, but rather it is the kind of allegorical science fiction that holds a mirror to our reality.
POSSIBLE AUDIENCE: Readers who like shonen dystopia will want to try Deadman Wonderland.
Rating: A /10
Last Updated: August 31, 2023 - 08:12