Deadman Wonderland: Volume 2 Advanced manga review
By Leroy Douresseaux
April 6, 2014 - 16:59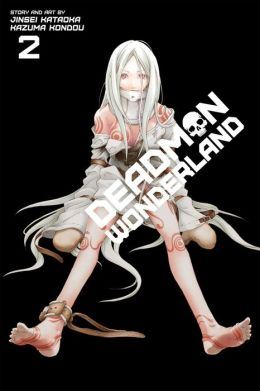 Deadman Wonderland Volume 2 cover image is courtesy of barnesandnoble.com.
Rated "T+" for Older Teen
Deadman Wonderland takes place in a near-future version of Japan, ten years after the Great Tokyo Earthquake put 70% of Japan underwater. Deadman Wonderland is a privately run, carnival-like penitentiary that has risen from the ruins of Tokyo. It is a bizarre and fatal theme park, where the prison bosses force the inmates to perform in notorious gladiatorial fights to the death. Fourteen-year-old Ganta Igarashi is a new inmate, sentenced to death for a crime that he did not commit.
As Deadman Wonderland, Vol. 2 (Chapters 5 to 8) opens, Ganta learns the whereabouts of Red Man, the entity that slaughtered Ganta's classmates, the crime for which he was convicted. Now, Ganta, Yo Takami, and Shiro race to G Ward Solitary Confinement, where Ganta desperately wants to get payback. Makina, the chief warden, sends Necro Macro, a killer robot, to capture them… or kill them.
During his search to find the Red Man, Ganta meets Kiyomasas Senji, who is also known as "Crow." He calls Ganta "Woodpecker" and describes them both as "Deadmen." Who is Crow and what does he really know?
THE LOWDOWN: When I first read Deadman Wonderland back in 2010 (the TOKYOPOP edition), I enjoyed it. VIZ Media, Deadman Wonderland's current publisher, has now sent me review copies of the first two volumes of Deadman Wonderland. This second chance to read the series has allowed me to discover that Deadman Wonderland is even better than I remembered.
The prison setting is a good one, and Deadman Wonderland creators, writer Jinsei Kataoka and artist Kazuma Kondou, take advantage of that setting by offering at least one new surprise every chapter. Deadman Wonderland is indeed a wonderland, a seemingly endless facility of offices, cells, infirmaries, arenas, secret passageways, corridors, and countless unknown places.
The cast is as eclectic as the setting, and there seems to be a character type for just about any kind of shonen manga reader. Deadman Wonderland Volume 2 offers more revelations about Ganta and his powers, as well as insights into the past and how it led to the current situation. Don't miss a volume of this fantastic graphic novel series.
POSSIBLE AUDIENCE: Readers who like shonen dystopia will want to try Deadman Wonderland.
Rating: A /10
Last Updated: February 5, 2023 - 09:06