Comics / Comic Reviews / DC Comics
DC Universe Presents: Deadman #1
By Leroy Douresseaux
October 1, 2011 - 10:13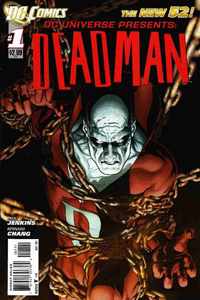 DC Comics Presents #1 cover image
With the re-launch of DC Comics' superhero line, "The New 52," the classic 1970s and 80s series,
DC Comics Presents
(1978-1986) returns. In this new series, it is
DC Comics Presents:
Deadman
in "Twenty Questions," a new storyline.
DC Comics Presents

#1
gives a recap of Deadman's origin, a flashback to
Boston Brand
the arrogant trapeze artist, known as Deadman, shot down mid-performance. We see how he met
Rama
, essentially his patron goddess who points him down the path to redemption and balance. Now, Deadman has to enter the body of
Johnny Foster
, injured war vet, but Deadman has plans that may shock Rama, but will certainly shock us.
THE LOWDOWN:
This first issue of
DC Comics Presents
is one of the wordier first issues of a comic book that I've read in some time. Bruthas and sistas, if you still don't know what Deadman is about after reading this, you'll never get it. Writer
Paul Jenkins
provides a detailed introduction to Deadman that he deftly ties into Deadman's first "client," the tragic war vet. And Jenkins does this without taking a big crap on Deadman's history, keeping the character intact without committing some ridiculous re-imagining that completely changes an already-interesting character.
Not to forget the artist:
Bernard Chang
visually and graphically recalls classic 1960s and 70s Deadman without having to copy Neal Adams. The robotic coloring by
Blond
often gives Chang's drawings surreal or ghostly touches, making Chang's striking images even more striking. There is a combat flashback scene at the top of a page near the middle of this issue. It is such an arresting series of images that it is still on mind. I would say that sequence makes this issue or art team Eisner and Harvey Awards nomination worthy.
POSSIBLE AUDIENCE:
Deadman fans will certainly want to find
DC Comics Presents
, but new readers will have reason to discover the character.
A

Last Updated: January 24, 2022 - 11:00