Minx Anniversary Brings Retailer Incentives
By The Editor
May 12, 2008 - 03:35
DC COMICS MARKS MINX ONE-YEAR ANNIVERSARY WITH BACKLIST ORDERING INCENTIVE
This month, DC Comics' Minx line of original graphic novels for teens hits its one-year anniversary, and to celebrate, DC is offering retailers a special ordering incentive on Minx backlist titles.
Starting now, retailers who order 2007 Minx backlist titles using the promo code 839 will be eligible to make full returns on them at a later date.
The Minx titles eligible for this ordering incentive are:
• THE PLAIN JANES (FEB070235)
• RE-GIFTERS (MAR070261)
• CLUBBING (APR070257)
• GOOD AS LILY (MAY070226)
• CONFESSIONS OF A BLABBERMOUTH (JUN070258)
• KIMMIE66 (AUG070324)
Retailers wishing to participate in this program must use the promotional code 839 when placing an order.
Retailers may order these titles by contacting their Diamond Customer Service Representative or DC Sales Representative, or by email at reorders@diamondcomics.com.
Retailers may place orders on these titles through September 30. This offer is good in the U.S., Canada and the U.K. only.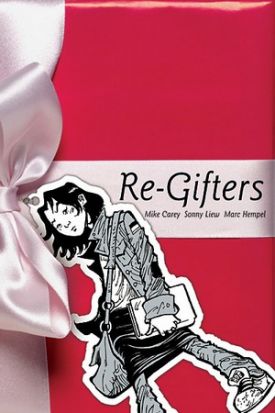 The Re-Gifters
Last Updated: September 6, 2021 - 08:15