Interview With David Petersen
By Hervé St.Louis
April 9, 2006 - 22:10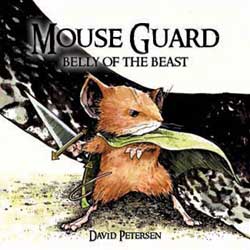 Cover of Issue #1

David Petersen is the creator of Mouse Guard, a new series published by Archaia Studios Press. Begun in February 2006, new issues of this series are coming out frequently.

Can you tell me about your background?

I was born and raised in Michigan.

What is Mouse Guard about?

It's about a group called the Mouse Guard who protect the mice in the open country of the mouse territories. They act as guides and escorts to provide safe passage for travelers and shipments of goods.

Tell me about the characters. Which is your favourite?

The main characters are Kenzie, Lieam, and Saxon. Kenzie is the thinker, he's the plan maker with the level head. Lieam is a newer Guard member and has a lot of enthusiasm. Lieam, although a bit green, is still very adept with the skills it takes to be a Guard. Saxon is a hothead. He acts quickly and answers most questions with his sword. I have a soft spot for Saxon.

What influenced the visual style of Mouse Guard?

When it comes to story telling, I'm a big fan of Mike Mignola and Frank Miller. Although Mouse Guard doesn't look like either of their work. My ink work is something that comes from my printmaking background, something you don't associate with comics, but after seeing some folks like Rick Geary and Gary Gianni doing comics in styles with line quality different than traditional comics, I knew I could incorporate it as well.

Do you think the style translate well to the comic book format?

I'm happy with the translation to comics. Comics are an interesting medium that can't be replicated in movies or books, it's an unusual blend.

Were they any storytelling problems with a painterly style?

I originally did the book in black and white. So I'm still doing all my ink work the same way. The colors are all digital. It does become a bit hard to do a level of action or movement with they style, but I'm developing new tricks as I go to get the message of the panels across.

How is your artistic techniques to rendering Mouse Guard?

I do a great deal of my sketching on scrap paper, then resize my drawings and use a light box to transfer them to the final Bristol. That way my pencils are as clean as possible before I start the inks. I use a variety of textures and stippling and hatching to make the inks interesting.

Why write a story about mice?

I think telling stories with animals can emphasize the characteristics of the characters and their situation better than any amount of character development with human characters could. For instance, it would be hard to make a human character as toad-ish as the character Toad from Wind in the Willows. There is an instant personality formed that is only further enhanced by the fact that he IS a toad. I really wanted a story where the struggle for survival is intrinsic

Were you influenced by some well known mouse tales such as Maus or Fievel?

I am a big fan of Spiegelman's Maus and remember seeing American Tail when I was a kid, but Mouse Guard isn't really related to those in many ways.

There has been several animated series similar visually to Mouse Guard. Have you ever seen any of them?

I have caught a few episodes of the Redwall series on PBS and remember seeing American Tail and The Secret of Nimh.

Who is the audience for this series?

Anyone who is interested in classic storytelling in a fantasy setting. I have heard from parents of young children and retirees who like the book. I try and make sure it's themes are relatable to children but don't want to make the dialogue too elementary. So some of the reading may be tough for kids who are young, but I think that's the perfect time for a parent to read to a kid or for a kid to go to their parent and ask for help with the 'big' words.

Do you think that series like Bone have opened up the market for different series like yours?

I think Bone is a stellar example of how books with non-traditional themes for comics can spring out of the small press and work their way into popularity. Comics had more diverse offerings once: love stories, war stories, westerns, sci-fi, horror, fantasy and superhero. Superheroes have dominated for quite a while, but books like bone show that there still can be a major market and audience for other types of stories.

How much did you have to convince people to trust Mouse Guard?

I thought it would be tougher than it has been. Most people have been pretty accepting of a book about mice with swords. I self published the first issue in black and white. It sold fairly well at local conventions and I was advised to show it to publishers. Mark Smylie at Archaia was very happy to publish it on as a mini series.

Where is the epic behind Mouse Guard going?

The plan with this first min series is to tell the reader who the guard are, what they do, what they don't do and how they live. Future series will have more character development, exposure to more of the world, threats, environments and history.

How long does it take for you to make an issue?

I'm on a bi-monthly schedule. I do all the writing, the covers, the inks and colors, so it takes me longer than other artists.

Have you been looking at collected editions instead or monthly floppies?

The mini series will be collected, but future books will be published as individual issues and then collected. I'm a big fan of the idea of that break in the story, like the old movie serials.

How has the reception to Mouse Guard being so far?

It has been really great. We got a lot of good feedback from readers as well as retailers.

Were you surprised?

Yes! I knew I had a book I was proud of, but had no idea it would strike such a chord with readers. There have been many reviewers that have been kind to me and the book, and that always helps.

Now that the book seems to be sold out, what are the republishing plans?

A second printing of issue #1 should be in stores April 12th

Will you target the markets outside the traditional comic book industry?

When the first series is collected that will allow it to get into other markets: book stores, libraries, and schools.

Can you give me a pitch on why the reader reading this interview should give Mouse Guard a chance and try it out?

I would say that if the person is interested in a fun read with classic sword fights, danger, with artwork different from most of what's on the comic shelves, they should give Mouse Guard a try.

Last Updated: September 6, 2021 - 08:15