Comics / Comic Reviews / Marvel Comics
Star Wars: Darth Vader #1 comics review

By Leroy Douresseaux
June 29, 2017 - 14:54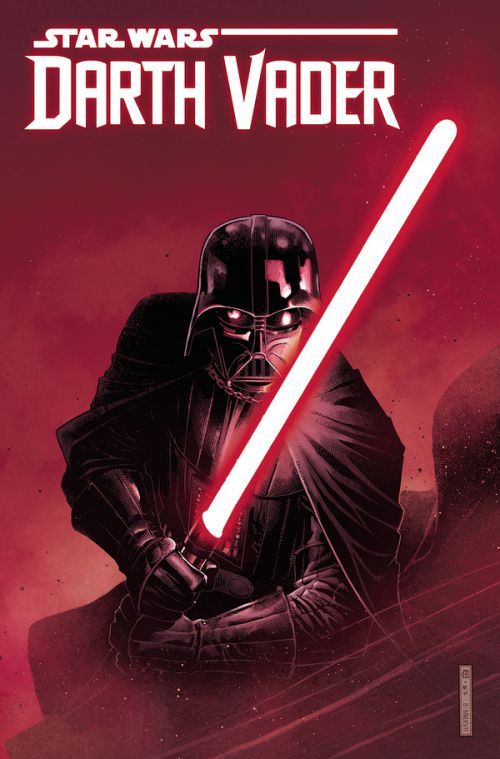 Darth Vader #1 (2017) cover image
Rated T

"The Chosen One" Part I
Of course, you know that The Walt Disney Company owns Marvel Comics, dear readers. Shortly after acquiring Marvel Entertainment, Disney bought Lucasfilm, Ltd., the owner of all thing
Star Wars
. Marvel Comics, the original home of Star Wars comics, is once again publishing Star Wars comics, and this time, these comic book are officially part of the Star Wars canon.
Two years ago, Marvel launched the comic book series,
Darth Vader
. Written by Keiron Gillen and drawn by Salvador Larroca, the series was set immediately after the events depicted in the original 1977 film,
Star Wars
(or
Star Wars: Episode IV – A New Hope
). In this comic book, we watched as
Darth Vader
was forced to work his way back into
Emperor Palpatine
good graces because the Emperor held Vader responsible for the destruction of his ultimate weapon, the Death Star, by the Rebel Alliance – as seen Star Wars.
Now, there is a new Darth Vader comic book series. It is written by
Charles Soule
; drawn by
Giuseppe Camuncoli
(pencils) and
Cam Smith
(inks); colored by
David Curiel
; and lettered by
Joe Caramagna
. This series is set after the events depicted in the 2005 film,
Star Wars: Episode III – Revenge of the Sith
, although some of it recounts events that took place at the end of that film.
Darth Vader

#1
opens as Anakin Skywalker awakens as the monster in a suit of cybernetic armor, Darth Vader. He is filled with pain and rage over the death of his wife, Padmé Amidala. After Emperor Palpatine brings his new dog, Vader, to heel, he begins the task of making the new Sith Lord prove that he can help him in the task of building and defending a Galactic Empire. First task: Vader must build a lightsaber worthy of a Sith.
THE LOWDOWN:
A Star Wars comic book has to be really bad or pretty average to get a grade of less than B+ from me. I am a decades-long Star Wars fan and get a kick out of reading Star Wars comic books. I am giving this new Darth Vader #1 a grade of B+, although I don't much care for Giuseppe Camuncoli's art. This opening chapter is okay, but it is intriguing and does set up the possibility of some really exciting chapters to come.
So, go get this new Darth Vader #1, Star Wars fan.
I READS YOU RECOMMENDS:
Fans of Star Wars comic books and of Darth Vader will want to try the new Darth Vader.
[This comic book includes the bonus story, "No Good Deed..." by Chris Eliopoulos with Jordie Bellaire.]
B+
7.5 out of 10
Rating: 7.5 /10
Last Updated: January 24, 2022 - 11:00