Dark Planet Comics' "Silver #2" Now at Comixology
By The Editor
November 2, 2013 - 18:18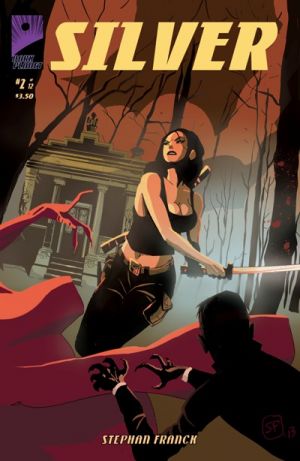 Silver #2 cover image
COMIXOLOGY RELEASES SECOND CHAPTER IN DARK PLANET COMICS' ACCLAIMED "SILVER" MINISERIES
Dark Planet Comics is happy to announce the wednesday 10/30/2013 ComiXology release of the second issue in writer/director/comic book creator Stephan Franck's acclaimed 12-issue mini-series SILVER.
SILVER, which extends the original Bram Stoker universe 50 years hence into the pulp era of the 1930's, has been embraced by comics fans, pulp fans and die-hard Dracula fans alike… "My favorite fan letter in Silver #2 comes from the Count Dracula Fan Club," says Franck, "and yes it is a real one, and yes, there is such a thing as a Count Dracula Fan Club--which is either awesome or terrifying."
Introducing pulp-era master-thief James Finnigan, SILVER #1 was released in May 2013 to rave reviews. Ain't It Cool News wrote "Franck knows his customers, what they expect, and he gives it to them in spades." Studio System News named SILVER in its article: "Comic-Con and Trickster 2013: Top Picks For Movies and TV".
In Silver #2, the paradigm shift continues for Finn, as he seeks out Rosalynd "Sledge" Van Helsing, who he hopes might help him authenticate Jonathan Harker's ledger. As it turns out, Rosalynd carries on her grandfather's handy work, and could very well be too much woman for Finn to handle. "We basically spent the first issue showing-off Finn's nerves of steel, and establishing that he's a master manipulator," Franck says. "In SILVER #2, It's a lot of fun watching him lose control of his reality--not to mention having to deal with a woman who's even more of a rebel than he is."
With SILVER, Franck brings the combination of light tone and character depth that has made him first-call in the animation industry. "Silver is about misfits;" Franck says, "people whose soul is broken, each in their own way. Some of them use irony as a coping mechanism. Others...well, they'll just drink your blood."
The ComiXology release of Silver #2 adds to a very productive year for Franck. THE SMURFS: THE LEGEND OF SMURFY HOLLOW, which he directed for Sony Pictures Animation, aired last weekend on ABC Family, as part of the "13 Nights Of Halloween" block, garnering excellent reviews, and earning him a mention in Animation Magazine as one of the current "Rising Stars In Animation".
SILVER #1 & #2 ComiXology link: http://www.comixology.com/Silver/comics-series/10508
Silver #1 and #2 are also available to order in print edition from the Dark Planet Comics website: http://www.darkplanetcomics.com/store
For additional contact and information, visit http://www.darkplanetcomics.com
Like our page of Facebook: http://www.facebook.com/DarkplanetComics
About Stephan Franck:
Stephan Franck is a writer/director/animator who has worked for Disney, Dreamworks, Warner Bros, Universal, Columbia Pictures, and Sony Pictures Animation. He was a supervising animator on THE IRON GIANT, and contributed story to films such as DESPICABLE ME. He is the co-creator of the cult TV show CORNEIL & BERNIE (AKA WATCH MY CHOPS) (TF1, BBC, ABC Australia), that runs in over 60 countries and is in production on a second season. He's had the giant out-of-body experience of being personally hired by George Lucas to direct a movie so cool and crazy it had to be abandoned, and just directed THE SMURFS: THE LEGEND OF SMURFY HOLLOW for Sony Pictures Animation, which was selected in official competition for the 2013 ANNECY INTERNATIONAL ANIMATION FESTIVAL in the Best TV Special category. He will be appearing November 1-3 at Stan Lee's Comikazee in Los Angeles and November 23-24 at the Long Beach Comic Book & Horror Convention.
About Dark Planet Comics:
Created in 2013, Dark Planet Comics is the home of Stephan Franck 's original comic book properties. "Having a comic book imprint has been a dream of mine," Franck says, "it's about authorship. It's about the commitment to put my stories out into the world in the way they were intended to be."
Last Updated: February 5, 2023 - 09:06