Dark Horse Announces Alien vs. Predator Trade Sellout
By The Editor
September 1, 2011 - 15:35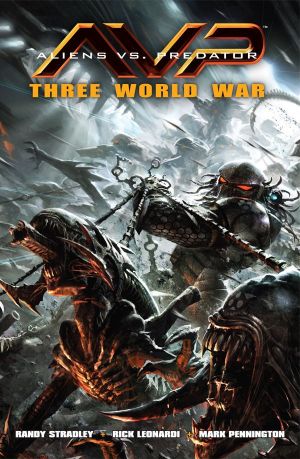 Alien vs. Predator World War 3 image
ALIENS VS. PREDATOR: THREE WORLD WAR SELLS OUT!
Dark Horse Comics is proud to announce the trade-paperback collection Aliens vs. Predator: Three World War has completely sold out of its entire first printing!
Aliens vs. Predator is one of the most popular science-fiction/action franchises, having spawned countless films, games, comics, and toys over three decades. Aliens vs. Predator: Three World War is the biggest action blowout yet.
In Three World War, a long-lost Predator clan stakes its claim for galactic dominance, intent on exterminating its rival clan, the selfsame trophy hunters who have plagued Earth's history. And if the advanced technology and military precision of this new threat weren't enough, they have an even more terrifying weapon—a horde of Aliens under their malefic control. Earthmen must now side with the warriors who have relentlessly hunted them, but is the enemy of your enemy your friend or just another enemy waiting for its turn to strike?
Collecting issues #1–#6 of the miniseries, Aliens vs. Predator: Three World War is written by original AvP scribe Randy Stradley and illustrated by Rick Leonardi and Mark Pennington.
This book will be going for a second printing, but hurry to your local bookstore to pick up the last of the first run!
Last Updated: September 6, 2021 - 08:15