The Umbrella Academy Spawns Merchandise
By The Editor
Nov 27, 2007 - 6:39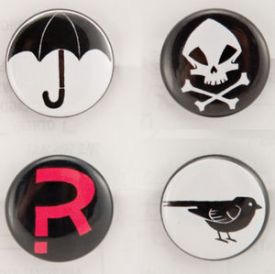 Images of the Umbrella Academy buttons.
Dark Horse launches a line of products based on The Umbrella Academy
Dark Horse Deluxe has announced that November 2007 will kick off an ongoing program of The Umbrella Academy merchandise designed exclusively for the fans of the comics series penned by Gerard Way of My Chemical Romance and illustrated by Eisner-nominated artist, Gabriel Bá. This month will see the release of the previously announced patches featuring The Umbrella Academy crest, The Kraken's logo, The Rumor's emblem, and the umbrella icon, as well as a four-pack of buttons with The Kraken's logo, The Sparrow, The Rumor's emblem, and the umbrella icon. There will also be men's and women's black T-shirts bearing a white umbrella icon. Additional products to watch for in the upcoming months include a coffee mug and—who could resist?—an umbrella. Stay tuned for details.
"I was able to go over a whole bunch of project ideas with Gerard. He really wants to have the right kind of fun stuff available for fans of the comic, but it is important to him that it make editorial sense as well," says Product Development Manager Rebecca D'Madeiros "We thought these items would be good supplements to the story, drawing on the stylistic impact of the various logos. We also hope that this is just the tip of the iceberg—and a few other tricks may yet be up our sleeves!"
The Umbrella Academy: Apocalypse Suite is one of the most anticipated series of 2007, and has achieved critical acclaim and record-breaking sales since its September release. It is the story of seven extraordinary, maladjusted individuals who were adopted and raised by an eccentric space alien whose meager parenting skills left the siblings bitter and estranged. Nine years later, the members of the Umbrella Academy are reunited by the death of the only parent they've ever known and the rise of a new and terrible threat. Will they be able to overcome their history for long enough to save the world—one more time?
The patches and buttons will be available November 14, 2007 and will retail for $4.99–$5.99. The T-shirts will follow on November 28 for $29.99, and will be available in men's and women's styles.
Last Updated: Jun 26, 2018 - 9:28