Crown of Love: Volume 3
By Leroy Douresseaux
August 4, 2010 - 11:36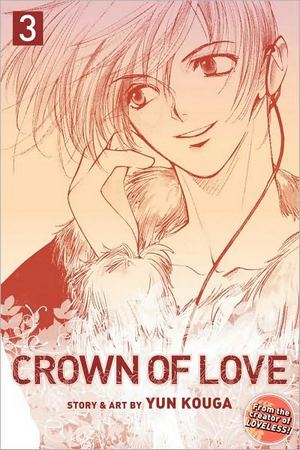 Crown of Love Volume 3 cover image is courtesy of barnesandnoble.com.
Rated "T+" for "Older Teen"
Hisayoshi "Kumi" Tajima bumps into teen idol, Rima Fujio, and after that encounter, he can't stop thinking about her. Rima's former manager, Keigo Ikeshiba, eventually offers to transform Kumi into a teen idol. Kumi thinks that this will create the perfect situation for him to get to know Rima, who only sees him as competition for Ikeshiba's attention.
As Crown of Love, Vol. 3 begins, Kumi meets a playful, but immature older woman named Mitsuko, who has a surprising secret. Yurie Takezawa, a girl with a crush on Kumi, finally confronts Rima over him. But Rima and Kumi have their own confrontation – one that will affect their future.
THE LOWDOWN: Although I enjoyed the previous two volumes of Crown of Love, I found the characters not as sparkling this time around. Yun Kouga makes each one too stuck inside his or her own head. The best moments come from interaction; now even when characters are with one another, they seem self-absorbed. Luckily, the Kumi-Rima confrontation offers some spicy drama.
POSSIBLE AUDIENCE: Readers of Shojo Beat high school romance and drama will like Crown of Love.
B-
Last Updated: September 6, 2021 - 08:15