Cross Game: Volume 7
By Leroy Douresseaux
May 31, 2012 - 11:28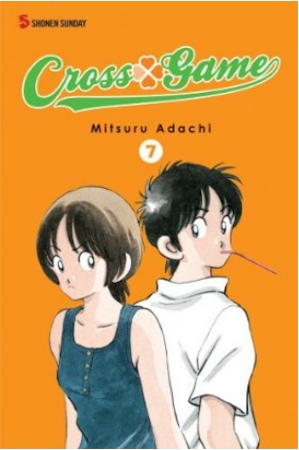 Cross Game Volume 7 cover image
Rated "T" for "Teen"
Cross Game is the award-winning baseball manga (54th Shogakukan Manga Award) from creator Mitsuru Adachi. The series focuses on a high school baseball player, Ko Kitamura, and his relationship with the four Tsukishima sisters who are his next door neighbors. Ko was very close to one of the sisters, Wakaba, who drowned when she and Ko were in the fifth grade. Afterwards, Ko and Aoba, the sister who is a year younger than him, work towards fulfilling Wakaba's dream of seeing them both play in the high school baseball championship.
VIZ Media reprints the original Japanese Cross Game collections in graphic novels, with each graphic novel reprinting two or three volumes of the Japanese trade paperbacks. Cross Game, Vol. 7 collects Vols. 14 and 15 of the Japanese editions.
As Cross Game, Vol. 14 begins, Ko's high school team, Seishu Gakeun Senior High School, is in the middle of the regional baseball tournament. If they win regions, they're off to Koshien for Nationals. Their next opponent is Matsunami Metro, and if they win, they will face either Sena Metropolitan High School or Kurokoma Vocational. And Kurokoma is coached by Seishu's infamous former coach, Daimon.
In Cross Game, Vol. 15, Akane, the teen girl who bears a striking resemblance to Wakaba, is in Ishigami Hospital. Will that affect Seishu's play? Meanwhile, the team moves closer to the regional finals.
THE LOWDOWN: With each volume of the Cross Game manga, I want to savor every page. Cross Game is one of the all-time best manga, and it is certainly one of the best graphic novels available to American readers. It manages to be both a light comedy and poignant teen drama. Then, there's the baseball element that brings it all together, but wait, there's more. It is about family and friendship, in which creator Mitsuru Adachi subtly mixes the mundane and the touching. To repeat myself, slightly, Cross Game is a lot of things, and it is a startling work of comic book storytelling.
POSSIBLE AUDIENCE: Readers looking for a series that personifies the simple fun of reading a comic book will like Cross Game.
Rating: A /10
Last Updated: August 31, 2023 - 08:12