Cross Game: Volume 6 Manga Review
By Leroy Douresseaux
April 8, 2012 - 13:56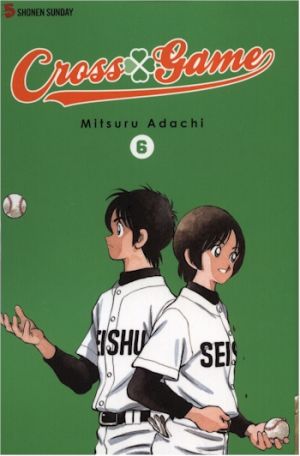 Cross Game Volume 6 is courtesy of Anime Castle Books.
Rated "T" for "Teen"
Cross Game is the award-winning baseball manga (54th Shogakukan Manga Award) from creator Mitsuru Adachi. A young baseball player, Ko Kitamura, is the focus of the series, as are the four Tsukishima sisters who live next door to Ko. Ko was very close to one of the sisters, Wakaba, who drowned when she and Ko were in fifth grade. Afterwards, Ko and Aoba, the sister who is a year younger than him, work towards fulfilling Wakaba's dream of seeing them both play in the high school baseball championship.
VIZ Media reprints the original Japanese Cross Game collections in graphic novels, with each graphic novel reprinting two or three volumes of the Japanese trade paperbacks. Cross Game, Vol. 6 collects Vols. 12 and 13 of the Japanese editions. As Cross Game, Vol. 12 begins, it is spring training for the Seishu Gakeun Senior High School. Aoba breaks her leg, and Ko goes on his first date with new neighbor, Akane, who bears a striking resemblance to Wakaba.
In Cross Game, Vol. 13, Seishu continues to practice with an eye on an inevitable match-up against Ryuou Gakuin High School. Yuhei Azuma continues to pine for Aoba, while his brother, Junpei, exhorts on the baseball team. Seishu's success means eldest Tsukishima sister, Ichiyo, will marry him! Ko prepares to turn 18-years-old, as the very special day, June 10th, approaches.
THE LOWDOWN: I want to be careful what words that I use to describe the Cross Game manga. It is a teen drama simply because most of the characters are teenagers, and the series is a drama that follows the daily lives of these characters, in which creator Mitsuru Adachi subtly mixes the mundane and the poignant. Adachi also finds comedy and especially the joy of life in the things these characters do and in the things that happen to them – from baseball to nights out. Cross Game isn't any one thing, but it is a startling work of comic book storytelling.
POSSIBLE AUDIENCE: Readers looking for a series that personifies the simple fun of reading a comic book will like Cross Game.
A
Last Updated: August 31, 2023 - 08:12