Cross Game: Volume 5
By Leroy Douresseaux
November 16, 2011 - 09:11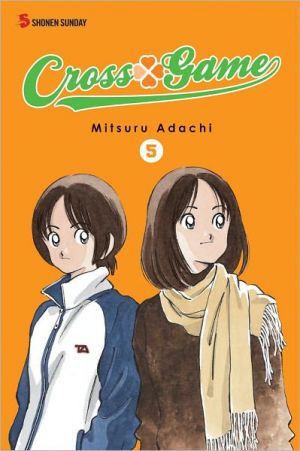 Cross Game Volume 5 cover image is courtesy of barnesandnoble.com.
Rated "T" for "Teen"
Cross Game is a baseball manga from creator Mitsuru Adachi. The series focuses on Ko Kitamura, a young baseball player, and the four Tsukishima sisters who live next door to him. Ko was very close to one of the sisters, Wakaba, who drowned when she and Ko were in fifth grade. Afterwards, Ko, and Aoba, the sister who is a year younger than him, work towards fulfilling Wakaba's dream of seeing them both play in the high school baseball championship.
VIZ Media reprints the original Japanese Cross Game collections in mini-omnibus editions, with each book reprinting two or three volumes of the original trade paperbacks. Cross Game, Vol. 5 collects Vols. 10 and 11 of the Japanese editions. In Cross Game, Vol. 10, the Seishu Gakeun Senior High School baseball teams takes on mighty Ryuou Gakuin. Ko is Seishu's pitching phenom, and his duel with Ryuou's pitching staff will take the game into extra innings for a shocking finish.
In Cross Game, Vol. 11, the Kitamuras and the Tsukishimas get new neighbors. The Takigamas own the soba noodle shop, Takigama Soba. Their daughter, Akane, also bears a striking resemblance to Wakaba, and that causes quite a stir. But how does Ko feel about this?
THE LOWDOWN: I surrender. I've tried to find a reason not to get attached to Cross Game because one of its central subplots strikes too close to home, but this is a great read. Cross Game is not the same kind of shonen manga that Naruto is. Cross Game is a drama about school age children and (later) teenagers that finds humor in everyday life. There is some teen romance, but this is more about close friendships and the first stirrings of love than what one would find in the shojo romance genre. I could see myself lounging on a sunny summer day and reading Cross Game. It is a comic book that reminds you of why you love reading comic books.
POSSIBLE AUDIENCE: Readers looking for a different kind of shonen, drama instead of action fantasy, will want to try Cross Game.
A
Last Updated: August 31, 2023 - 08:12