Cross Game: Volume 4
By Leroy Douresseaux
July 12, 2011 - 07:46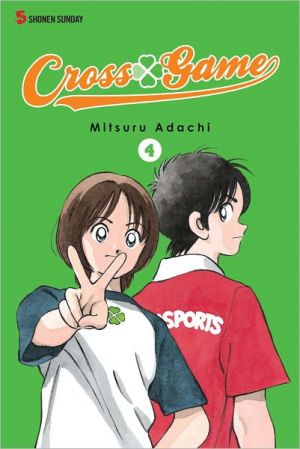 Cross Game Volume 4 cover image is courtesy of barnesandnoble.com.
Rated "T" for "Teen"
Cross Game is a romantic comedy manga from creator Mitsuru Adachi. The series focuses on Ko Kitamura, a young baseball player, and the four Tsukishima sisters who live next door to him. Ko was very close to one of the sisters, Wakaba, who drowns when they are in fifth grade. Afterwards, Ko, and Aoba, the sister who is a year younger than him, work towards fulfilling Wakaba's dream of seeing them both play in the high school baseball championship.
VIZ Media reprints the original Japanese Cross Game collections in mini-omnibus editions. Cross Game, Vol. 4 collects Vols. 8 and 9 of the Japanese trade paperback or graphic novel series.
As Vol. 4 begins, Aoba's first cousin, 15-year-old Mizuki Asami, moves in to live with the family. Asami, who has spent much time out of the country, wants to be a mountain climber like his father, but for now, he just wants to date Cousin Aoba.
THE LOWDOWN: Not the same kind of shonen manga that Naruto is, Cross Game is a high school comedy and drama that is both observant and introspective about teenage life. Creator Mitsuru Adachi does not shy from tragedy, embracing it in much the way he does the joyous and the mundane. On the surface, Cross Game may seem slow moving because Adachi doesn't miss the subtle touches that give this manga a sense of authenticity. What he is really doing is moving through the characters' lives without missing the little moments.
POSSIBLE AUDIENCE: Readers who don't mind that a good character drama just happens to also be an excellent baseball manga will like Cross Game.
A-
Last Updated: August 31, 2023 - 08:12