Cross Game: Volume 3
By Leroy Douresseaux
April 7, 2011 - 09:33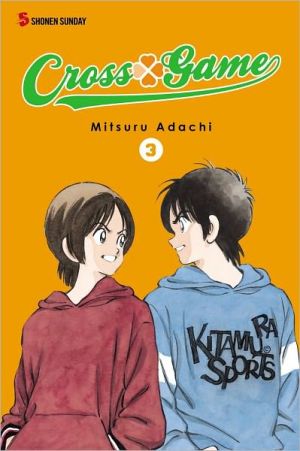 Cross Game Volume 3 cover image is courtesy of barnesandnoble.com.
Rated "T" for "Teen"
Cross Game is a shonen manga from creator Mitsuru Adachi. It is the story of Ko Kitamura, a first year high school student at Seishu Gaken Senior High School and a budding baseball star. However, Ko is currently part of a group of castoffs from the varsity baseball team known as the Portables.
VIZ Media reprints the original Japanese collections in mini-omnibus editions. Cross Game, Vol. 3 collects Vols. 6 and 7 of the Japanese releases. As Vol. 3 begins, Ko learns that it is zero hour for the Portables. Head Coach Shugo Daimon is about to kick the entire bunch off the baseball team, even veteran Coach Sentaro Maeno finds that his job is in danger. The Portables have one hope. Play a game against the varsity and its elite recruits and beat them. Ko's longtime pal and neighbor, Aoba Tsukishima, helps the Portables, but as a girl, Aoba may find herself not welcomed.
Meanwhile, the Azuma brothers arrive on the scene. Junpei, the older brother and small businessman who owns a produce delivery service, is a genial fellow. His younger brother, Yuhei, is on the Seishu varsity team, and is a bit arrogant.
THE LOWDOWN: While Cross Game is not a shonen manga like Naruto or Bleach, it is indeed a boy's comic book. It is a sports drama with characters that slowly grow on the reader, and it has lots of baseball action and also intrigue between the players. Creator Mitsuru Adachi draws the story in a simple, but highly evocative style that turns on the action lines when the story focuses on an actual baseball game. Cross Game is a coming-of-age story with heart that gets to the heart of youth baseball.
POSSIBLE AUDIENCE: Readers who want a boy's baseball manga that is more than just a baseball comic book will want Cross Game.
A-
Last Updated: August 31, 2023 - 08:12