Cross Game: Volume 1
By Leroy Douresseaux
October 11, 2010 - 12:38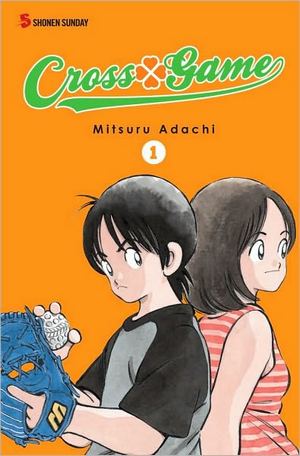 Cross Game Volume 1 cover image is courtesy of barnesandnoble.com.
Rated "T" for "Teen"

Cross Game is a shonen manga from creator Mitsuru Adachi. VIZ Media has collected the first three volumes of the series in a mini-omnibus edition entitled Cross Game, Vol. 1 that comes in at just under 600 pages.
Cross Game focuses on a boy named Ko Kitamura, who is a fifth grader when the series begins. Ko's father, Kensaku Kitamura, owns the sporting goods store, Kitamura Sports. Their next door neighbor, Seji Tsukishima, owns Tsukishima Batting Center (where people can practice hitting in batting cages) and also Clover Coffee Shop. A widower, Seji has four daughters: first year high school student, Ichiyo; Wakaba, a fifth grader on the swim team; budding baseball pitching prodigy, Aoba; and cutesy fourth grader, Momiji. A romantic comedy and baseball manga, the series follows the development of the relationship between Ko and Aoba.
Cross Game is not a shonen manga like Naruto or Bleach. In fact, shonen manga (comics for teen boys or boys 10 and older) isn't quite the perfect fit as a label. Cross Game is more like children's literature or like a coming-of-age story from a boy's point of view, specifically Ko's. Mitsuru Adachi draws the story in a simple, but highly evocative style that engages the reader on a deeper level than a typical fantasy action/adventure comic. The narrative is often lighthearted and amusing, being built around the youthful cast's antics, but it is also bittersweet. The children's days are not free of heartache and tragedy.
Although this is a baseball manga, it isn't just fun and games. Cross Game juggles comedy and drama, and its success is in that young readers will recognize something of their lives in this story. Adults may be impressed by how a comic book that looks like a kiddie comic will strangely resonate with them. Cross Game wants to be more than a boy's baseball comic book and it is.
A-
Last Updated: August 31, 2023 - 08:12