Comics / Manga / Yaoi Manga
Crimson Spell: Volume 3 yaoi manga review
By The Editor
April 22, 2014 - 10:00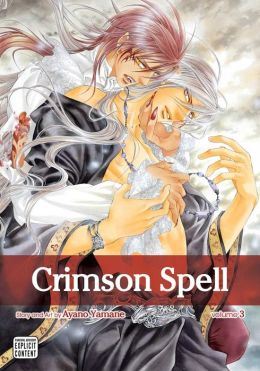 Crimson Spell Volume 3 cover image is courtesy of barnesandnoble.com.
Rated "M" for "Mature"
Crimson Spell, created by Ayano Yamane, is a yaoi manga graphic novel series. Yaoi manga are romance comics that depict relationships in which the romantic leads are male. A subset of boys' love (BL) manga, yaoi can also feature depictions of explicit sex between males. A fantasy tale, Crimson Spell focuses on a handsome prince beset by a demon's curse and the sorcerer who helps him fight that curse.
Crimson Spell revolves around 18-year-old Prince Valdrigr Alsvieth a/k/a Prince Vald, the eldest prince of the Alsvieth Kingdom. An excellent and accomplished swordsman, Vald has been possessed by the sword, Yug Verlind, which has a curse that transforms Vald into a demon at night. Halvir Hroptr a/k/a "Havi" is a sorcerer living in exile. Because Havi is adept at breaking curses, Vald approaches him for help. Havi discovers that intense physical intimacy helps tame the demon Vald becomes at night.
As Crimson Spell, Vol. 3 (Chapters 14 to 19) opens, Gileh, an ally and manipulator of demons, holds Havi captive. Gileh wants to possess Yug Verlind, and now, he wants Vald to fight Havi to the death. As incentive, Gileh threatens to kill Vald's younger brother, Anri, whom he also apparently holds captive.
Forced to fight Havi, who is under an enchantment placed on him by Gileh, Vald transforms into full demon mode. Halrein, a former friend of Havi's, and Mars, a traveling swordsman who has pledged loyalty to Vald, want to help, but they are actually helpless to save Vald and Havi from death and destruction.
[This volume contains the bonus story, "The Fairy's Cocoon."]
THE LOWDOWN: As I wrote in a previous review of the Crimson Spell manga, the series seems serious about being fantasy fiction. In some ways, it resembles sword and sorcery comic book adaptations of Robert E. Howard Conan the Cimmerian (or Barbarian) and is also visually similar to the various comics and OEL manga based on World of Warcraft.
Crimson Spell Volume 3 is filled with explosive fight scenes and raging displays of magic, and creator Ayano Yamane thrills her readers by placing her characters in peril that reads as being genuine. Yamane also shows her serious-about-yaoi side with an entire chapter devoted to human sorcerer/human-demon hybrid sexual intercourse. Apparently, Yamane thinks that boys' love lovin' should involve at least one guy being especially and exceedingly orally attentive to the penis. Fun for all, for sure.
POSSIBLE AUDIENCE: Readers looking for imaginative fantasy-sex and romance manga will fall under the Crimson Spell.
www.SuBLimeManga.com
www.yamaneayano.com
Rating: A /10
Last Updated: September 6, 2021 - 08:15