Comics / Manga / Yaoi Manga
Crimson Spell: Volume 2 yaoi manga review
By Leroy Douresseaux
March 6, 2014 - 12:27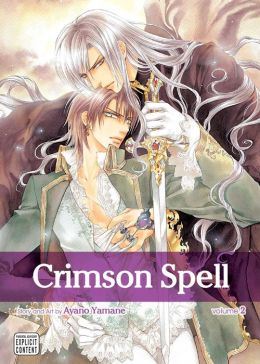 Crimson Spell Volume 2 cover image is courtesy of barnesandnoble.com.
Rated "M" for "Mature"
Crimson Spell is a yaoi manga graphic novel series from creator Ayano Yamane. Yaoi manga are romance comics that depict relationships in which the romantic leads are male. This subset of boys' love (BL) manga can also feature depictions of explicit sex between male characters. A fantasy tale, Crimson Spell focuses on a handsome prince beset by a demon's curse and the sorcerer who helps him fight that curse.
Eighteen-year-old Prince Valdrigr Alsvieth a/k/a Prince Vald is the eldest prince of the Alsvieth Kingdom. He is an excellent and accomplished swordsman, but when he first holds the sword, Yug Verlind, he takes on a curse that transforms him into a demon at night. Halvir Hroptr a/k/a "Havi" is a sorcerer living in exile. Because Havi is adept at breaking curses, Vald approaches him for help. Havi discovers that intense physical intimacy helps tame the demon Vald becomes at night.
As Crimson Spell, Vol. 2 (Chapters 8 to 13) opens, Havi learns the origin of the curse on Yug Verlind that transforms Prince Vald. Meanwhile, Havi's former friend, Halrein, is ordered to retrieve the numerous magic tomes that Havi stole.
Vald and Havi meet Mars, a wandering swordsman, an encounter that leads them to a village in the midst of an invasion by demons. There, unknown enemies plot to control both Vald and Havi.
THE LOWDOWN: The Crimson Spell manga is serious about being fantasy fiction, but is not high fantasy of the Tolkien variety. Crimson Spell is closer to sword and sorcery, bearing a slight resemblance to some elements in the work of Robert E. Howard, creator of Conan the Cimmerian (or Barbarian). Some readers may find it a little similar to various comics and OEL manga based on World of Warcraft.
Crimson Spell is also serious about being yaoi manga, featuring oral sex and saliva-infused foreplay. Creator Ayano Yamane takes advantage of what the fantasy genre offers, so she is quite imaginative in depicting who can have sex with whom… or what. Those depictions of sex are bizarre, shocking, funny, and sometimes delightful.
Of course, everything is drawn in Yamane's painterly art style. Lovely renderings and lush compositions will dazzle the eye and is also good storytelling. Everything about the characters, from their pasts and secrets to their goals and desires, makes them attractive to readers. I look forward to future volumes of Crimson Spell.
POSSIBLE AUDIENCE: Readers looking for imaginative fantasy-sex and romance manga will fall under the Crimson Spell.
Rating: A- /10
Last Updated: September 6, 2021 - 08:15