Creating Animated Cartoons with Character
By Leroy Douresseaux
September 23, 2010 - 07:48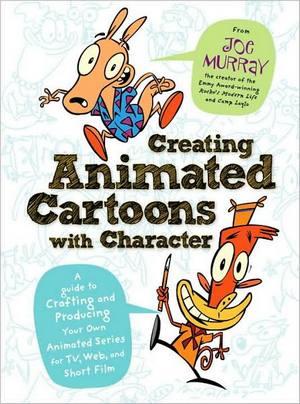 Creating Animated Cartoons with Character cover image is courtesy of barnesandnoble.com.
Joe Murray is an animator, filmmaker, and illustrator. He is probably best known for the two hit animated series he created, Rocko's Modern Life (Nickelodeon) and Camp Lazlo (Cartoon Network). Murray is also a two-time Emmy Award winner and recipient of a Student Academy Award.
For the aspiring cartoon animators hoping to break into the business of animation, Joe Murray has written Creating Animated Cartoons with Character: A Guide to Developing and Producing Your Own Series for TV, the Web, and Short Film. According to the introduction he wrote for his book, Murray wants to share his experiences in the business with both aspiring animators and new talent already in the business. For years, these were the people asking his for advice and those requests convinced him that he needed to put this book together.
Creating Animated Cartoons with Character is a handbook and step-by-step guide to creating characters and developing animation for television, short film, and the Web. It also offers advice on how to navigate the business side including crafting a series proposal, putting together a team to create a show, and dealing with a network. Readers gain guidance through such topics as "The Secret to a Great Series: It's All About Characters!" "Pitching Your Series: Preparing a Proposal," and "Thinking Outside the Box: Getting your Series Out There Without a Network or Studio."
I am not an aspiring animator, but I have been interested in animation for what seems like forever. Creating Animated Cartoons with Character did interest me, and I enjoyed it. Creating Animated Cartoons with Character is heavily illustrated with character designs, conceptual art, images from animated shows, and other art. Because of Murray's success, I'd say that this book is a must-have for those who want to produce animation that they plan on showing to more people than just family and friends. Murray got 2 animated series on television, and both shows were Emmy winners, including winning awards for Murray. That has to count for something.
www.joemurraystudio.com
www.watsonguptill.com
Last Updated: August 31, 2023 - 08:12