Comics / Comic Reviews / More Comics
Red Range: A Wild Western Adventure Advanced comics review

By Leroy Douresseaux
Jun 15, 2017 - 17:43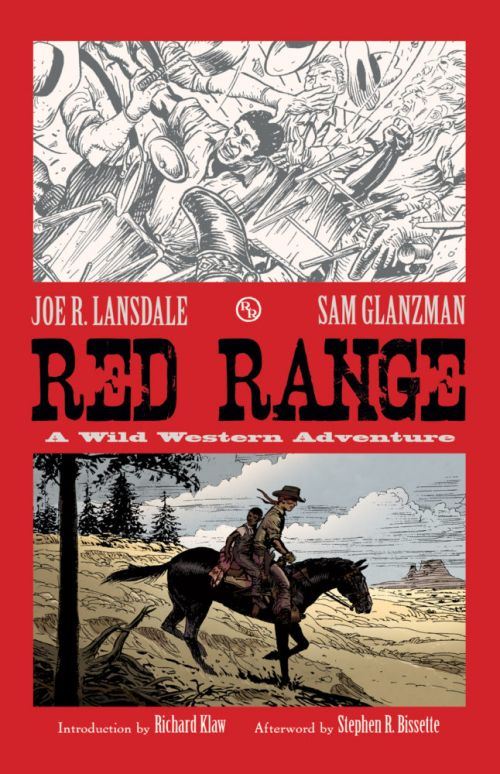 Red Range: A Wild Western Adventure cover image - 2017 edition
Red Range: A Wild Western Adventure
is a Western graphic novel written by
Joe R. Lansdale
and drawn by
Sam Glanzman
. It was originally published in 1999 by Mojo Press and apparently was ignored upon its first release. Lansdale is a prolific novelist and short story writer who has also written numerous comic book stories. A U.S. Navy veteran of World War II, Glanzman has been writing and drawing comic books since the medium's "Golden Age," beginning with a story published in 1941. Glanzman is probably best known for his Western and war comics.
It's Alive, an imprint of IDW, is bringing Red Range: A Wild Western Adventure back into print in a new full-color, hardcover edition with colors by Jorge Blanco and Jok and letters by Douglas Potter. This new edition also includes essays and text pieces by
Richard Klaw
(Red Range's original publisher) and comics creator and publisher,
Steven R. Bissette
. This volume also includes a black and white comics short story, "I Could Eat a Horse," written and drawn by Glanzman and first published in Wild West Show (Mojo Press, 1996).
Red Range
opens somewhere in Texas (east Texas?) sometime in the 19th century (after the Civil War). The
Ku Klux Klan
is in the middle of torturing and murdering a husband and wife, when a shot rings out that kills two of the Klansmen. After more than half their number has been shot dead in the most brutal ways, the rest of the Klansmen flee in horror. Who or what scared the bejesus out of them?
It's that notorious, Klan-killing Black vigilante, the
Red Mask
. Once he was
Caleb Range
, a Black man whose wife and son were killed by evil White men before his very eyes. Now, he is the monster in a Klansman nightmare. Caleb takes
Turon
, the son of the Black couple murdered and tortured by the Klan, as his new partner. Meanwhile,
Batiste
, Klan leader and survivor of the Red Mask's most recent attack, gathers a crew of morons and murderers into an ersatz posse to hunt and kill the Red Mask and Turon. However, the final showdown between the Red Mask and Batiste will take them into the wild and wonderful world of the "Weird Western."
THE LOWDOWN:
The essayists of the
Red Range: A Wild Western Adventure
graphic novel apparently hope for some vindication for the apparently initially-ignored graphic novel with its new release. I don't remember Red Range at all, and I assumed I was both an astute reader and follower of independent comic books at the time. I don't even remember Red Range's original publisher, Mojo Press, although the name does seem oddly familiar.
The truth is that in 1999, Red Range was way, way ahead of its time. I had a professor of Shakespeare at LSU who insisted that no one was "ahead of his time." Every creative person was "of his time." That may be true, but a person of his time can create a work that is ahead of its time, and that is exactly what Joe R. Lansdale and Sam Glanzman did.
My recollection of the 1990s was that there was deep resistance to comic books featuring African-American characters from certain segments of the comics media, comic book retailers, comic book publishers, and comic book readers. Here comes Red Range with its unapologetic Black male hero who shot White men down as if they were rabid dogs. The world of American comic books was not ready for what was essentially the marriage of "The Lone Ranger" and
Django Unchained
, 13 years before Django shot two white men and whooped one's ass before he shot him, early in Quentin Tarantino's Oscar-winning film.
Lansdale gleefully weaves a tale of ultra-violence and unfettered racial hate, and sprinkles the dialogue with racial epithets aplenty. Glanzman, a master of graphical storytelling, turns Lansdale story into comics storytelling that is filled with gore, but skillfully picks up the sly and shade-throwing humor in Lansdale's writing.
Now, Red Range is ready for the world of American comic books, or is it the other way around? Social media has given both African-American comic book creators and readers a voice to beat back those trying to hold them back. The-economy-is-great-and-we're-all-fine, late 20th century America of President Bill Clinton is long gone. Now, we have the post-President Barack Obama America in which the first Black president of the United States has been replaced by a President who shamelessly courts racists, religious bigots, White separatists, bullies, misogynists, etc. Donald Trump's appointment as President by the Electoral College woke the naive up... finally. We are not in a post-racial America.
There are more people in America who are like Batiste, the villain in Red Range, Batiste, than many of us would like to admit. So it has to be okay for two White men to create fiction that depicts pure-dee, American racism and the fight against it in the most blunt storytelling language.
Lansdale and Glanzman were never over-the-top and mean-spirited, even back in 1999. Readers simply did not recognize the genius and the A-game of Joe R. Lansdale and Sam Glanzman, who both, at best, probably only had a cult following at the time. But like the ghosts of Mississippi, Red Range: A Wild Western Adventure is back for justice. Please, read this graphic novel. Also, when you consider the high quality and high production values of IDW Publishing's hardcover graphic novels and archival collections, Red Range is a steal... even shop-lifting at the price of $19.95.
I READS YOU RECOMMENDS:
Fans of Western comic books, of Weird Western fiction, of Django Unchained, of Black cowboy history and storytelling, of IDW books, and of great comics in general will want to ride the
Red Range: A Wild Western Adventure
.
A+
This book includes the following text pieces with illustrations:

"When Old is New and New is Old" – Introduction by Richard Klaw
"Beneath the Valley of the Klan Busters" - Afterword by Stephen R. Bissette
"A Brief History of Cowboys & Dinosaurs: Pop Culture Cowpokes & Carnosaurs" essay by Stephen R. Bissette

This book also includes the Sam Glanzman comics short story, "I Could Eat a Horse."
Rating: A+ /10
Support this writer on Patreon
Last Updated: Jun 26, 2018 - 9:28