Inspector Gadget and Johhny Test Explore Comics
By The Editor
August 11, 2010 - 08:15
Viper Comics announced Inspector Gadget and (Cartoon Networks) Johnny Test licenses. Viper will be developing books based on both Inspector Gadget and Johnny Test and releasing them in 2011.
Jessie Garza with Viper states, "We're ecstatic to have been granted the opportunity to give both of these characters the comic treatment. These are two awesome properties to add to our line-up of recently acquired license (Odd Rods)."
Inspector Gadget is an animated television series developed about a clumsy, simple-witted detective named Inspector Gadget, who is a human being with various bionic gadgets built into his body. Gadget's arch-nemesis is Dr. Claw, the leader of an evil organization, known as "M.A.D."
Often cluelessly stumbling through any case he is given, Gadget frequently ignorantly makes foolish and insufferably clumsy mistakes pertaining to surroundings and current environment, mistaking innocent bystanders (and sometimes Brain, his niece Penny's dog) for enemies, and believing that the real enemies are friends. His ineptitude always leads him into danger, but he always gets out of trouble through either his trusty gadgets, Penny's unseen assistance, or pure luck.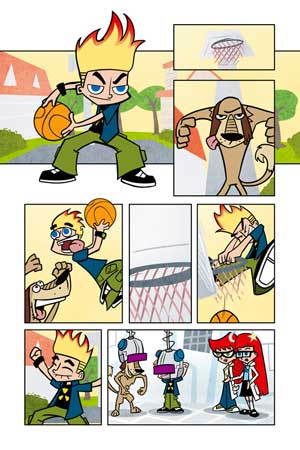 Johnny Test concerns the adventures of Johnny Test, an average 11-year-old boy who lives in Porkbelly. Johnny is the troublesome, narcissistic, spoiled, hated and widely disrespected member of the Test family, which consists of his super-genius 13-year-old twin sisters, Susan and Mary, his talking (and talkative) companion dog, Dukey, and his over-the-top parents, his mother Lila, who is a full-blown workaholic businesswoman, and his father Hugh, who is a obsessive-compulsive househusband who likes total hygiene and meatloaf. The Test twins use their younger brother as a guinea pig for their various experiments (thus their surname of Test) in their secret laboratory, with which they try to impress Gil Nexdor, their pretty boy next-door neighbor.
Last Updated: March 27, 2022 - 20:11