ComicBookBin App Update and Expansion to New Mobile Platforms
By The Editor
July 30, 2010 - 09:02
The ComicBookBin apps for the Apple iOS devices (iPhone, iPod Touch, iPad) and now Palm webOS help comic book collectors plan comic book conventions attendance, locate comic book stores in multiple locations, as well as provide access to over 10,000 articles published about comics, toys, movies and books since 2002.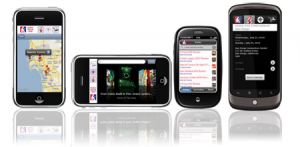 Just in time for the San Diego Comic-con 2010, ComicBookBin for iOS and webOS allows comic book collectors to add conventions to their calendars, including scheduled activities like panels, signings and workshops. Comic Book Bin founder Hervé St-Louis says "we've scrapped the comic book convention utility we had on the first versions of ComicBookBin for the iPhone and created something that is truly unique and useful to comic book readers. More than ever, these apps are comic book collectors' utility belts." iPhone users can mail themselves or others events that can be added to their iCal, Outlook or Gmail calendar. All of the San Diego sessions are programmed in the app. On webOS phones, users can add any event to their Palm webOS Calendar app.
Users can also find multiple comic book stores in various locations in both apps. By default the ComicBookBin app only lists comic book stores in the surrounding area of the user, but it can also search for comics shops in various cities and countries. Anyone planning a visit to San Diego using ComicBookBin apps will find all the local comic book stores there before leaving their hometown.
Each app was created to take advantage of the platform it is made for. For example, on the iPhone ComicBookBin 2.0's newsreader features a nifty gallery interface in landscape mode while the webOS version allows multitasking in multiple cards when using the store locator. "These apps" says Hervé St-Louis "are native to the mobile operating system they were designed for. There's no compromise."
Working on each app was difficult and a lot of work. We're still working on the Android version of ComicBookBin which will again be as close to the Android look and feel as possible. It should be out within a few weeks.
Download this app for the iPhone and iPod from iTunes at
http://itunes.apple.com/us/app/comicbookbin/id360213878?mt=8
Download this app for the Palm Pre and the Palm Pixi from Palm at
http://developer.palm.com/webChannel/index.php?packageid=com.comicbookbin.cbb
Last Updated: September 6, 2021 - 08:15