Comic books-A guide for parents
By Gareth Atha
March 23, 2006 - 16:03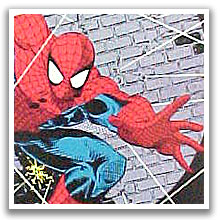 Superheroes have grown up with their readers
This article is primarily written for parents who may be concerned that their children are reading comics. Perhaps you have picked up one of your child's comics and thought that it was too violent, perhaps you may not know what messages a child may get from these books, or perhaps you are just curious. I hope you find this article useful, but please bear in mind that these are my own views, and at the end of the day parents should decide for them selves what is or isn't suitable for their children.
Comics have definitely "come of age" over the last ten years. Comics used to be written about characters that were whiter than white, who always fought the bad guys with wise cracks and the most violence the reader would see would be Batman punching the Joker with "Pow" or "Zap" effects. I would be lying if I didn't say that a lot of comics these days deal with very adult themes. Many include violence, possibly even a little sex. Heroes are not whiter than white any more, they are real, human characters with the flaws that go with that. Yes, a child could pick up some adult messages from reading comics, but they could also pick up some very good moral messages as well. Heroes may not always do the "right" thing, but the stories more often than not portray these characters agonizing over their actions later, weighing up the moral actions they should take. A child is as likely to pick up on these factors as any other in the book. The level of maturity in comics these days is as varied as the number of titles available. Many educators are also eager to use comic books as a way of getting a reluctant reader to practice their reading skills.
The other side of this scenario is that you may be a parent of an older child who is interested in comics and you may be concerned that he or she is engaging in a childish activity. Well, nothing could be further from the truth. As I have pointed out, comics have really grown up over the last few years, and there are many out there that carry "mature readers only" warnings on their covers. These comics, while definitely not suitable for the younger reader, contain many of the same plot arcs and character scenarios as would be found in any novel. Try looking for some of the titles published by Vertigo, as this is where DC publish their mature titles.
As I said at the start of the article, the best thing for a parent to do in this matter is to use his or her own judgement. Try reading the comics before you give them to your child. This will allow you to "filter" out any material they do not want their children to encounter.
The links below may also be useful to any parents wishing to know more about the comics medium, or anyone who is just curious.
www.marvel.com
www.dccomics.com
www.dccomics.com/vertigo
www.darkhorse.com
www.comicbookresources.com
www.comicscontinuum.com
www.comics.org
I hope you have found this article useful, if you have any questions, please contcat me at gareth@comicbookbin.com.
Last Updated: March 10, 2022 - 22:00