Code:Breaker Volume 1
By Leroy Douresseaux
Aug 18, 2010 - 14:48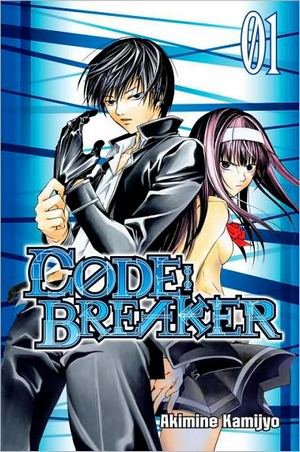 Code:Breaker Volume 1 cover image is courtesy of barnesandnoble.com.
Rating "OT" for "Ages 16+"
Riding home on a bus one night, Sakura Sakurakôji witnesses a strange and shocking sight as she passes a city park. Several men are burning to death, their bodies engulfed by a blue flame, while a mysterious boy stands nearby. The next day, this boy, who is named Rei Ogami, arrives as the new transfer student at the high school Sakura attends. Although he comes across as normal, Rei is really a "nonexistent" Cøde:Breaker, a terrifying kind of vigilante who cannot be touched by the law.
In Code:Breaker (stylized as Cøde:Breaker), Vol. 1, Sakura struggles with what she knows about Rei. Rei laughs it off, but continues to deliver vigilante justice to the worse criminals in the city. He warns Sakura that if she tells anybody about his activities, he'll turn his blue flame on her.
THE LOWDOWN: The main attraction of Cøde:Breaker at this early point in the narrative is just to see what the lead characters do next. Creator Akimine Kamijyo has created two interesting characters in Sakura and Rei. Sakura is an independent-minded young woman who can physically defend herself, although she comes across as a teen girl who needs to be put on a pedestal. Rei is the handsome, boy-next-door that every girl is just dying to date, but he burns hot and cold. His gentle demeanor is but a thin, plastic coating to cover his sour malevolence.
Together, they are an odd couple indeed, and despite their remonstrations towards one another, there is something between them. It's Brad Pitt and Angelina Jolie in Mr. and Mrs. Smith, but with crazy mutant powers.
POSSIBLE AUDIENCE: Readers looking for dark thrillers will like Cøde:Breaker.
A-
Last Updated: Jun 26, 2018 - 9:28