Chun Li Sota Street Fighter
By Hervé St-Louis
Mar 15, 2005 - 15:15
Chun Li appeared in the Street Fighter II as the first female character in that game, but also one of the first video game heroine ever. Having joined Interpol to hunt M.Bison, whom she suspect, killed her father, Chun Li's trade-mark is her Hyakuretsukyaku kick. Chun Li paved the way for other female video characters and is said to be the strongest woman in the world. As Sota's 15th anniversary Street Fighter commemorative series, Chun Li is the first woman they translated into an action figure.

Likeness

Sota based its Chun Li action figure on the cartoon animated series. Her facial features are softer than in some games and other illustrations. Although supposedly a very beautiful woman, some versions of the character has high cheekbones and squinting eyes. This Chun Li does not resemble a Chinese woman at all. She looks very much like a typical young Manga girl.

Sculpt

One thing that bugs me about Chun Lin are her big feet. Considering her Chinese heritage, one would think that although small feet are no longer in vogue in China, a woman's feet will not be as large as that of a man. A lot of care has been taken to render as much details as possible on the figure's belt and head dress. Instead of painting her belt with designs, they are sculpted in. Her elbows don't look very good, because of the high level of articulations in that area.

Paint

The paint application is decent although it's not perfect. Sota toned Chun Li's forearms and face. There is similar toning in her head dress and abdominal belt. However, her boots are all covered with white paint, including her laces. Some of the rings around the laces have silver paint, but not all. The brown used for the pants doesn't match the colour of the joints in her knees. The gold and silver paints rub off easily.

Scale

Chun Lin is the smallest of the 15th anniversary Street Fighter action figures. This is perfect and gives some indication about the scale of the majority of female figures in this line. Chun Li is almost under Ryu's eye levels. Next to other large figures such as Bison and Sagat, she looks as if she was a child. Nevertheless, the scale of the characters' face match so well, that there is no inconsistency.

Stability

Chun Li's stability is precarious. Had she not have those big feet she would have problem standing up. The major issue here is the looseness of her toes, hips and thigh articulations. Were they tighter, Chun Lin would stand perfectly. Her feet are wide enough to support her weight. Given that Sota did not pre-drill peg holes in this waves action figures, it makes stability more problematic. Unlike M. Bison, she doesn't have weight to anchor her feet on the ground.

Articulation

Chun Li has 29 points of articulations, two more than all the figures from the first wave. She loses the ball-joint shoulders, but gains an extra elbow articulations. Double articulations are also found in her knees and wrists. Her head, like Ryu and Sodom has a ball-joint, allowing her to move her head in several directions. Other articulations are in the neck, shoulders, biceps, the abdominal, the waist, the hips, the ankles, and the toes.

Plastic

Although the PVC is flexible, it can also break if too much pressure is applied. There has been many complaints about the first wave of Street Fighter action figures by Sota. Fortunately, Sota replaced many of the defective or broken figures. A good trick is to put the figures in a fridge or boil them a bit to loosen the joints. This will reduce breakage. Chun Li's arms and elbows are particularly thin. So watch out.

Props

Chun Li comes with two heads and two pairs of hands. One set of hand is shaped as a fist. The other one is shaped into a martial art gesture.

Packaging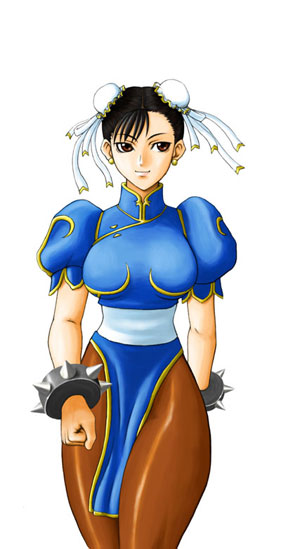 Chun Li comes in a bubble package that can only be opened with scissors. The front display has a fake arcade console. On the back, there images of all the figures in the first wave. This type of packaging is difficult to open and not great for the environment. However, for collectors who never open their figures, it is perfect as it's near impossible to reseal the package once it's open.

Cost

Chun Li cost from $12 to $25 in many stores. Sota sells its variant for $12. Few merchants sell the figures for $12. One of them is Quicksand Collectibles. Many stores sell all the figures from this wave as a set for a less money. Others sell a few in a bundle. Price on the secondary market are expected to rise, but continue to visit stores, as the more people use auction sites, the more the price of the figures will increase.

Availability

Chun Li is probably one of the peg warmers of this set. That's too bad as it is a great figure. Sure it feels like we get less for our money, since she is so small, compared to say Sagat. But size is not all. The quality of the details is worth it. Most stores that sell this figures are online. There are a few offline. Outside the United States, this figure is more difficult to find as Sota is not as widely distributed overseas.

Last Updated: Jun 26, 2018 - 9:28