Comics / Comic Reviews / More Comics
Chilling Adventures of Sabrina #4 review
By Leroy Douresseaux
July 28, 2015 - 20:31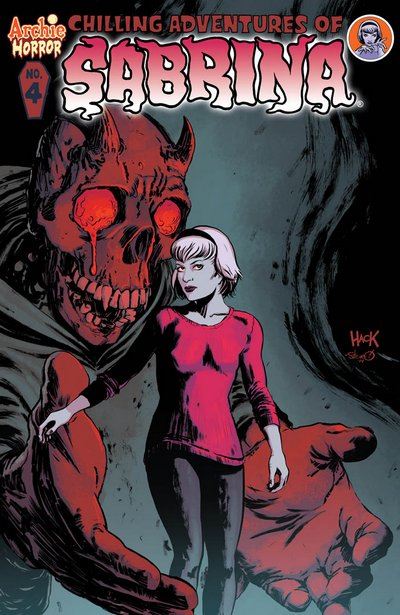 Chilling Adventures of Sabrina #4 cover image
Rated Teen + (Violence and mature content)
The comic book series,
Afterlife with Archie
, is a re-imagining of the world of Archie Comics as a zombie apocalypse, and it is a hit with readers. Last year,
Sabrina the Teen-Age Witch
, a traditionally lighthearted, Archie Comics publication, also received a horror comics makeover. Now, we have
Chilling Adventures of Sabrina
, written by
Roberto Aguirre-Sacasa
, drawn by
Robert Hack
, and lettered by
Jack Morelli
. It is a genuine and genuinely good horror comic book. Say what!
This darker series is set in the 1960s, with the current story line largely taking place in 1967.
Sabrina Spellman
is a 15-year-old who lives in
Greendale
with her aunts,
Hilda and Zelda
(two witches of the Satan-serving variety), and her cousin, Ambrose (a warlock).
Chilling Adventures of Sabrina

#4
("The Crucible" Chapter Four: "Harvey Horrors") opens after Sabrina's interrupted "
Unholy Baptism
," in which she was preparing to accept the life of a witch. Now, Sabrina's boyfriend,
Harvey Kinkle
, a fellow student and football stud at
Greendale High School
, is running for his life.
In the tragic aftermath, Sabrina struggles to accept what seems like fate. In the meantime, her aunts warn her that she must face the coven. However, a sympathetic teacher at Greendale High,
Evangeline Porter
a.k.a.
Madam Satan
, may have a way to make things better for Sabrina.
THE LOWDOWN:
Roberto Aguirre-Sacasa and Robert Hack have created a horror comic book that it is so good that they could make it work without using a well-known Archie Comics character. That they have re-imagined Sabrina the Teen-Age Witch simply makes the book that much more wickedly divine and salacious.
The bucolic 1960s setting is appropriate as this comic book has the occult and ominous vibe of such 1970s occult films like
Carrie
,
The Omen
,
Race the Devil
, and
Rosemary's Baby
, among others. Every time I read this comic book, I also think about Rob Zombie's recent half-ridiculous/half-brilliant, Satanic art movie,
The Lords of Salem
.
Chilling Adventures of Sabrina
is mad and brilliant. If EC Comics and the 1950s copy-cat horror comics that the publisher influenced had created graphic novels, they would look like this first story arc of
Chilling Adventures of Sabrina
, "The Crucible." Sometimes, the witchery is so shocking in this comic book, I think that Roberto Aguirre-Sacasa and Robert Hack might need some inquisition face-time, or perhaps to be dunked a time or two.
POSSIBLE AUDIENCE:
Readers looking for exceptional and high-quality dark horror comics will want
Chilling Adventures of Sabrina
.
[This issue includes a bonus Sabrina the Teen-Age Witch story, "Double Date," from writer by Dick Malmgren and artist Dan DeCarlo.]
http://archiehorror.com/
Rating: A /10
Last Updated: January 24, 2022 - 11:00