Children of the Whales: Volume 4 manga review
By Leroy Douresseaux
May 20, 2018 - 11:36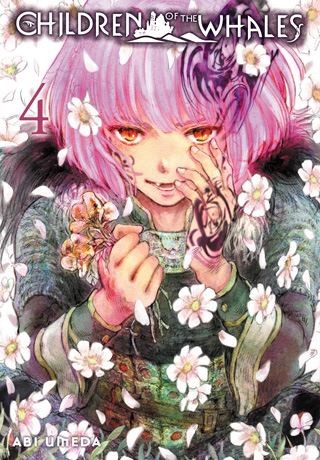 Children of the Whales Graphic Novel Volume 4 cover image
Rated "T+" for "Older Teen"
It is the year 93 of the
Sand Exile
. The "
Mud Whale
" is an island city of clay and magic floating atop an endless sea of sand, and on that island, an isolated community clings to life. Chakuro is the archivist for the Mud Whale, and he diligently chronicles the lives and deaths of his people, who are cut off from their own history.
As
Children of the Whales

, Vol. 4
(Chapters 13 to 16) opens, the battle for the Mud Whale becomes a deadly rout. "
The Marked
" (the magic users of the Mud Whale) unleash their powers against the harlequin mask-wearing soldiers of the
Allied Empire
. Called the "
Apatheia
," because they are emotionless, the imperial killers are no match for the "
thymia
" users protecting the Mud Whale.
Meanwhile, Chakuro and
Ouni
lead an assault force against the imperial ship, "
the Skyros
." Chakuro is about to have a very special encounter and receive a special gift.
[This volume includes an afterword, "A Story About Designing the Mud Whale" and "A Note on Names."]
THE LOWDOWN:
The Children of the Whales manga was one of the best manga and graphic novel debuts of 2017. After three volumes released this year, the series is also one of the best of 2018.
Children of the Whales Graphic Novel Volume 4
replaces much of the violence of the previous volumes with a sense of hope. Creator Abi Umeda is basically telling her readers that there are so many possibilities for her characters. Umeda also puts so much thought into the visual design of the story, and it seems as if every pen line and brush stroke that creates the art is as unique as a snowflake.
Magic infuses the art with a sense of mystery and wonder. Children of the Whales is the kind of comic book that leaves the reader wanting more, and I think readers will discover that they cannot get enough of this hugely imaginative series
I READS YOU RECOMMENDS:
Readers looking for unique graphic novels for young readers and teens will want the VIZ Signature title,
Children of the Whales
.
A+
10 out of 10
Rating: 10 /10
Last Updated: May 19, 2020 - 12:25