Children of the Whales: Volume 2 manga review
By Leroy Douresseaux
February 20, 2018 - 14:01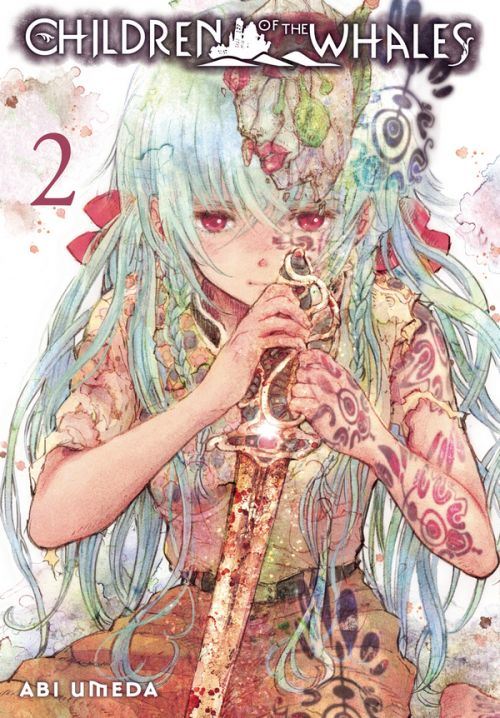 Children of the Whales #2 cover image
Rated "T+" for "Older Teen"
It is the year 93 of the Sand Exile. The "
Mud Whale
" is an island city of clay and magic floating atop an endless sea of sand, and on that island, an isolated community clings to life.
Chakuro
is the archivist for the Mud Whale, and he diligently chronicles the lives and deaths of his people, who are cut off from their own history.
As
Children of the Whales

, Vol. 2
(Chapters 5 to 8) opens, imperial soldiers from the
Allied Empire
continue the assault on the Mud Whale, wantonly killing it denizens. Wearing harlequin masks, these soldiers are called "
Apatheia
," and they are emotionless, but also wield the psychic power/magic that is known as "
thymia
."
As the attack climaxes, the people of Mud Whale learn that the imperials call them "
Falaina
," which is also the imperial name for the Mud Whale. Now, some Falaina are fighting back, including Chakuro. Meanwhile, the Mud Whale's "
Committee of Elders
" knows the truth about everything – from the true story of the island to its relationship with the Empire, but rather than reveal all, the committee would rather destroy all.
[This volume includes an afterword, "Looking for "Children of the Whales." "A Note on Names."]
THE LOWDOWN:
In my review of the first volume, I wrote that I could honestly say that the Children of the Whales manga was one of the best new manga and graphic novel debuts of 2017. Sometimes, I fear that when I read the second volume of a new series after praising the first volume, I will discover that the great beginning was a resounding fluke.
Children of the Whales Graphic Novel Volume 2
sets the stage for the series to be declared one of the best of 2018, and this series is not a fluke. I am amazed by the swings of emotion and dramatic shifts in tone presented by series creator Abi Umeda, but this is the reason that the narrative of Children of the Whales is such a powerful and gripping story.
The first volume opened with a sense of magic, wonder, and discovery, and then, finished dark, frightening, and tragic. Even in the sadness and lamentations of this second volume, the sense of mystery and of wonderful things to be discovered is palatable. VIZ Media sent me review copies of Vols. 1 and 2, and I wish they could send me the next two right now. I can't wait to read more of Children of the Whales, a manga for teen readers that stands with the great Young Adult fiction.
I READS YOU RECOMMENDS:
Readers looking for unique graphic novels for young readers and teens will want the VIZ Signature title,
Children of the Whales
.
A+
10 out of 10
Rating: 10 /10
Last Updated: May 19, 2020 - 12:25