Welcome to the Superhero Ghetto...
By Leroy Douresseaux
May 23, 2005 - 17:12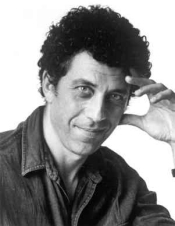 The artist in question...
Hello, and welcome to
Mr. Charlie Opens the Door#50
:
I was surprised to learn recently that playwright/actor/performance artist
Eric Bogosian
apparently announced at a lecture that he was writing a "graphic novel" for DC/Vertigo – this according to a story at Newsarama.com. I first encountered Bogosian in Oliver Stone's 1988 film adaptation of Bogosian's play,
Talk Radio
. The film was lost coming between Stone's intense Vietnam films
Platoon
and
Born on the 4th of July
and
Wall Street
; however, it is one of Stone's best works, even if it isn't as accessible as these other films.
Later, I saw him on the old "Arsenio Hall Show," and Arsenio was completely taken (smitten?) with the well-spoken Bogosian, even telling the actor that he wanted him to come back, which seemed to surprise Bogosian. Bogosian also gave an odd performance as a rogue black ops agent turned terrorist in the mid-90's Steven Seagal film,
Under Siege 2: Dark Territory
. I've also heard parts of one CD of his stage act. This one included a hilarious monologue with Bogosian as a man who had an enormous and visually appealing male reproductive organ.
I should get to the point, which is that having a celebrity, even a D-list like Bogosian (nothing against his talent), does nothing much for the comics market as it is – not because of Bogosian, in particular, but specifically because of what Marvel and DC do with outside celebrity talent that comes into so-called mainstream comics. Maybe, whatever Bogosian does will perform well for DC in the bookstore market, but people who buy their comics from comic book shops shouldn't look to find Bogosian's work readily for sale in their comic shops. First, many stores, either by economic necessity or because of stubborn habit, strictly sell superhero comics. The rest sell mostly superhero comics with a sparse sprinkling of other escapist fantasy from so-called independent publishers and on rare occasions something from the small arts and alternative publishers like Fantagraphics Books, Drawn & Quarterly, and Top Shelf. The stores that offer a generous sampling of those three alt-comics publishers and others are sooooooooooo small in number.
Back to celebrity talent at DC and Marvel: It's one thing to drag these little cult celebrities (and some not so little) like Kevin Smith and Joss Whedon into comics and have them write Spider-Man and X-Men comics, but it would be an entirely different thing if these guys came into comics and did more original work. When all is said and done, Smith's time as writer of DC's
Green Arrow
and Marvel's
Daredevil
revival amounted to solid entertainment, but 50 or so other professional comics writers could have delivered the same level of material for a much smaller fee. Whedon's current X-Men comics are just warmed over Claremont/Byrne era Claremont. In the end, the publishers got what they wanted – a filmmaker's name on their backlist.
Imagine the attention comic books could get if popular and acclaimed novelists, filmmakers, and playwrights came into comics and instead of taking their new creations to the book market, theatre, or stage, made them exclusively available (at least, at first) to the comics market because those latest works were (Ta-da) comics. That's the opportunity that I see with Bogosian – fresh new ideas about creating comics, and every bit of it as easily available in comic stores as it would be in bookstores and theatres. Instead, what usually happens is a celebrity comes in to write a Batman comic. DC, of course, gets a momentary boost in sales via that particular book, but it is, of course, momentary. If anything, DC risks a celebrity-driven comic book stealing sales from their other regular titles, so overall, sales may not be impacted much, at least not upwards. DC eventually will just move on to the next event comic, having failed to parlay that event into serious credibility, as compared to fannish cred.
The opportunity that DC has with Bogosian is to promote not only the celebrity factor of having the actor write comics, but they also have the opportunity to show that an original Bogosian work is just the tip of the iceberg when it comes to their varied publishing list. Marvel can't show much. They exist solely (in spite of their Icon line) to churn product related to their corporate parent's trademarks. First, Marvel Comics exists to keep its parent's best trademarks in the public eye, even to the limited extent that Marvel Comics as a publishing entity can. Secondly, Marvel exists to generate some income for Marvel Entertainment, the parent company. Finally, they exist to find naïve creators who can take lame concepts and re-invent them into attractive movie properties. Imagine if some established pro or new talent magically transformed Rocket Raccoon into not only a popular comic, but also into a concept so novel that it catches pop culture by complete surprise, and Hollywood wants in on nouveau Raccoon. By the way, do you think the re-inventor would get a screen credit if his unique take on a trash character were transferred to film?
Anyway, back to DC. I hope they publish original works by Bogosian that really show off how wonderful, rich, complex, and/or highly entertaining comics can be and how comics can tackle drama just as well as film, stage, and prose can, and that comics publishers can do more than superhero and superhero-like escapist entertainment. I know that in the end, DC will spend their marketing dollars on the latest Bat-whore generated comics, but what DC could do if its parent put big money into serious comics boggles the mind. The fact that Eric Bogosian will write a graphic novel or two makes me think that DC is going to maintain trademarks,
but
also start to act like a real book publisher… I hope.
The idea is to make inroads with new customers and thus make more money – at one time the reason companies and corporations existed, but now it may be more about stock price. The opportunity here is a diversity comics presented on a larger scale or in bigger venues and not just relegated to the fringes of North American pop culture because the best talent is wasted on "DC Universe – The Crossover Event."
Last Updated: March 10, 2022 - 22:00