Interview with Jennifer Daydreamer
By Leroy Douresseaux
January 12, 2004 - 11:15
Sometime at the end of this month, Top Shelf Productions will publish JENNIFER DAYDREAMER: ANNA AND EVA. An 84-page, black and white graphic novel ($4.95), it will be the second graphic novel from Jennifer Daydreamer. Like its predecessor, JENNIFER DAYDREAMER: OLIVER, Anna is a stand-alone book, but connected by it's setting in Ms. Daydreamer's melancholic dream world, Encephalon, of which she discusses in the following interview. Ms. Daydreamer began her comics career in mini-comics, but now she's bringing her game to big time comic publishing. Let's listen in…
Can you tell us a little about yourself - biographical details, if you don't mind?
Well, my real name isn't Jennifer Daydreamer, but I like not telling my real last name, if you don't mind. And I am 38. I have drawn mini-comics for 6 years or so, and Top Shelf Productions has published my book OLIVER, and soon to come, ANNA AND EVA.
When did you first encounter comics? What did you like to read?
When I was little I love the Archie's [various Archie Comics titles], I kept them at my dad's. My parents were divorced. I spent the weekend at my dad's and one of the treats I got to do was to buy whatever Archie's, Rich Rich's [Harvey Comics], etc., that I wanted, and a soda and a candy bar.
At what point did you seriously begin to consider becoming a cartoonist, and at what point did you chose comic books as the way to express that desire to cartoon?
In college I worked for two comic book companies, Cartoonists Across America, and Renegade Press. Renegade Press was founded by Deni Loubert, who is Dave Sim's ex-wife. I fell in love with comics. I really wanted to be a cartoonist back then, but felt intimidated by great cartoonists like Jamie Hernandez. Let's see, I spent a lot of years drawing from life, and it was about 10 or eleven years ago that I put out my first mini-comic. After some years of life experience and drawing and painting, I felt more than ready to do comics. Especially now. In the past, I wasn't sure what to offer in the way of new or exciting ideas, now I feel full of ideas.
Why did you chose to publish mini-comics, and how did you go about producing them - from art to publishing?
I think I ordered Julie Doucet's mini-comics, and I got the idea. It came naturally to me, I didn't think about it much; it just seemed like that's what you do, to learn how to draw comics. I don't mean to boast, but everything fell in my lap. I moved to Seattle, somehow Tom Hart got a hold of my first two mini-comics, and I was surrounded by all these new friends: Megan Kelso, David Lasky, Jason Lutes, Lin Lucas, James Sturm, Ed Brubaker....who encouraged me and helped me with my comics. And Tom knew John Porcellino, who was soon distributing my comics in his catalogue Spit and A Half. I never paid for advertising or tried to sell my comics much, my cartoonist friends and other cartoonists I never met, talked about my comics in their books. John P., with his catalogue, really got my comics and a lot of other people's homemade comics, out into the world, even in Europe.
How many mini-comics did you publish? How did you get the word out about them?
I published 11 JENNIFER DAYDREAMERS. Hmm, I guess I just answered this in the previous question.
What was public and reader reception like?
Great. Great and small. A small amount of people bought my comics. People really liked my comics from the start, I don't know why. No, I do know why! Everyone has heard of me, but no one has really read my comics. People usually say, "I have heard of you, your name Jennifer Daydreamer, but I have not seen any of your comics." It was then I realized I could conceivably go for ten years without drawing comics at all, but just swing my name around. Ha ha. So, some advice: if your trying to start out in comics, get a good name.
When and how did Top Shelf become involved in publishing your work?
Brett Warnock called me up one day, and asked to publish me. I said "no". I said I should finish my book first (he saw it on the net) and I told him I have, you know, a '"thing" for Drawn and Quarterly. I was brutally honest; I love Drawn and Quarterly. And then that weekend, I told my friends, and they were like, are you nuts? Tom Hart has told me for years that Top Shelf is the company for me. I think Drawn and Quarterly is really hard to break into, I doubt that they would have published me. Anyway, Tom said the fantasy angle to my comics, would fit the Top Shelf line perfectly. I am so happy I chose them. I called Brett later that week and humbly asked if he would publish me after all. It's been great with them, Chris [Staros] and Brett work really hard, and they are into the convention thing. I haven't gone to enough conventions (can't afford the travel) but the ones I go to, I love to sell, and meet people, and the Top Shelf friendliness is in sync with my own. At the cons, I like drawing people and selling and talking and meeting readers, and Brett and Chris are really easy and fun to be around, to let me do that. And, as importantly, the aesthetic vision for my books has been a great match.
Can you describe the universe in which your comics take place, "Encephalon?" Is it very personal, or have you designed it so that readers can perhaps recognize some familiar things in it and share it with you?
Well, 'Encephalon' means 'brain', so it takes place in my brain. That's all you need to know. Just kidding. It's an ALTERNATE UNIVERSE. I didn't want this universe to be too 'tight' with strict rules and definitions. I spent time preparing for my stories by defining my personal worldview: thoughts on an afterlife, the connection between the waking world and dreaming, [and] the discovery of shamanism for me (and still how little I know of it). I have several notebooks with various characters in Encephalon and their histories. I also have a notebook, one for the study of symbols and lucid dreams, out-of-body experiences, etc. and another that's a collection of strange newspaper stories. The later I have kept for about 15 years.

Can you give us a little recap of Oliver, for those unfortunates who haven't read it?
Oliver encapsulates my philosophy on life, to a degree. It's an introduction to the world of Encephalon. It paints a picture of what more is to come in future stories. I hesitate to describe it more, as I think I will be answering your question, below…
Although I did find some of Oliver to involve linear storytelling, the comic seemed more potent on an emotional level. Instead of trying to figure out a "storyline," I felt very drawn to the emotions the individual panels, pages and groups of them evoked in me. I found some of the images troubling, but not in an aggressive way. Reading it is a bit of a chaotic experience, like struggling with dream images. Is the book meant to be taken emotionally, or is it more literal and I missed it because of my poor Louisiana education?
You read it just fine. It's funny, I think most people liked it, based on the feedback and reviews I have received, but I got such an extreme response on it. For some people, it made them really mad to the point of calling me stupid, whiles others told me that its genius. That is so extreme. That's like a roller coaster. The people who like it say they read it slowly or a couple of times.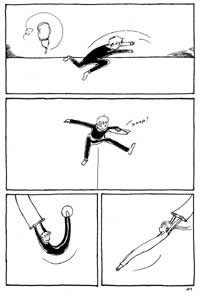 In any case, I will dissect the story for you, and if anybody hates having things laid out for them, [they should] skip to the next question. The middle story, about the boy Max, is a true yet unbelievable story. My first boyfriend 'Max' really did go out of his body--way, way out, past his bedroom and his house, and it's a story he told me that has always affected me. I met him right before my mom died, and the flower men story is about her, in a sense. I didn't want to be literal, and write a story about her insanity. I wanted to write what insanity IS to me. The three stories are adjacent to each other; it's not a beginning, middle and end story. I didn't want to say, "this is a true story" about the boy Max, because I wanted the reader to decide if his out-of-body experiences were just his imagination or something else. During my life, I have interviewed friends and acquaintances about their out-of -body experiences. After having a significant altered state experience of my own (using the technique the boy Max uses in the comic) I felt compelled to do this comic. So, the Max story is based on a true story, therefore its pretty literal. The flower men story is totally emotional, but I think that the schematic makes sense. The flower lapel on Jack's outfit comes to life, hence, an inanimate object with soul. Also, a part of himself (the flower lapel) breaks off from himself (a classic textbook schizophrenic crackup). And there is a scene I really like, depicting his flower shadows, casting a pall over him. There is a lot of shadow research in analysis. The flower men crawling from out under his bed, is a creation of his mental instability from somewhere deep inside himself. Meanwhile, Max is experiencing something pretty insane, yet he is a little boy, so he is sane (most likely). Again, is it his imagination or something truly supernatural? And finally, the first scene with the devil Oliver and angel fight is me making fun of the fight between good and evil, and it's a personal creation myth story. I think 'evil' is a label, I think there are strong psychological tree trunks for one who commits terrible immoral acts, and the costumes of the devil and angel are like 'masks' --labels. "Evil" is a simplistic label. There might be acts of possession in the world, and although I haven't seen it or experience it myself, I think it is so lean, compared to the misunderstanding of the human psyche and its depth. That a murderer is not insane for killing -please! Anybody who murders has some deep insanity from within. That's what makes me angry, the simplistic view of the human being that people have. I believe I learned the depth of feeling and emotion from my mother who suffered from what we call schizophrenia. In the first scene I describe reality in a simple way, as DREAM, to pose the questions: where does one's perception begin and end, where does reality start when you are looking out at the world? So, yes, I did have a strong emotional need to draw that comic... I think it's a matter of taste, than education, as you were nicely joking about. Some people like a lot of logic (I'm not saying you necessarily) and I love abstraction. BRAZIL is one of my favorite movies; so hell, I love that Terry Gilliam in my coffee. More abstraction! Any zaniness I can put in my comics - I need to keep making room for it.
According to the Top Shelf website, you've been doing some research. What's the give and take between what you want to do and what you're learning through research? Has the research taken over the story or is it helping to enrich your comics?
Reading, that's the 'research' and recording my life experiences other's life experiences, etc. Reading just makes my life great. I feel more full and happy. It's not a shallow life, and my comics add wholeness to that. I hope this 'research' doesn't overpower the stories. Learning about myth and stories is like learning how to write in a foreign language and not just speak it. It really adds a depth to the storytelling experience.
Tell us about the second book, Anna and Eva?
Anna and Eva is a more grounded work- the flight has landed. The story revolves around the Pettibone family, an eccentric circus family, with Anna Pettibone as the main character. Some of the other main characters of Encephalon appear too. I don't want to describe too much, its 80 pages with four intertwining stories. It's more of a beginning, middle and end story, but there is that Daydreamer touch too. Brett Warnock said I made a huge leap in my story and writing abilities in this comic. I don't know how to analyze it, as I am fond of #1 in certain ways, but, yeah, I really like this comic.
I usually ask the subject if she wants to say anything to the readers...a sort of freestyle where she can plug things our say hello and thanks to colleagues and friends.
I am really happy with Top Shelf Comics, and I like to thank Chris Staros and Brett Warnock for all their support and belief in my comics. They are great. Also, check out my website: www.jenniferdaydreamer.com for more info and drawings, I paint party paintings also, etc. Please feel free to email me at jenniferdaydreamer@yahoo.com with any questions or feedback regarding my comics. Also, read my essay on www.successfulschizophrenia.com. Also, send me to Europe! I am a fun-filled guest, and I draw fan's portraits for free. Thank you to all for reading my comics, and please look out for Jennifer Daydreamer - Anna and Eva, in stores by the end of January 2004. Thanks for the interview Leroy, and the complimentary review of Oliver.
THANK YOU. In addition to appreciating Jennifer for her time, we also give a nod to her boyfriend for proof reading her answers. Next, we show much love to Top Shelf co-publisher Brent Warnock for his patience in sending us page images from Anna and Eva. In fact, you may want to visit www.topshelfcomix.com. It's likely you won't find Jennifer's work at your local (Marvel and DC pushing) comic shop, but the Top Shelf websites sells all its publications. That includes Time.com's Comic of the Year, Craig Thompson's BLANKETS, and books by Alan Moore, Stripburger, and indie creator turned DC Comics house writer Ed Brubaker. Holla!
Last Updated: August 31, 2023 - 08:12