Interview With Alex Fellows
By LJ Douresseau
January 11, 2005 - 10:19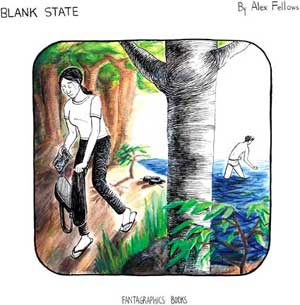 Back after an absence, Mr. Charlie #43 looks at Alex Fellows. The 25-year old Canadian is a rising alt-comics star and winner of a Xeric Grant. Fantagraphics Books dropped Alex's first graphic novel, CANVAS, earlier this year. This past fall, we spoke with him:

Would you mind introducing yourself to the readers, a little biographical info, if you wish?

ALEX: I was born in Montreal, Quebec, on May 11th 1979. I come from a fairly normal family. The most fascinating thing about me is that I once got hit by a car fast enough to break the whole front windshield and put a big dent in the roof, yet I did not break a single bone in my body.

Would you mind describing CANVAS, your new small graphic novel from Fantagraphics?

ALEX: The story revolves mostly around a 14-year old girl named Canvas. Her dad is a frog and her mom is a pig. Together they go on a camping trip, where Canvas has some new experiences with boys and booze.

Were you doing self-publishing or mini-comics when you applied for and later won a Xeric Grant? Did you include any of CANVAS in the Xeric application?

ALEX: I had done a 24-page comic called "Blank State," which Fantagraphics featured on its website in 2001: http://www.fantagraphics.com/comics/blankslate/b00.html.

After that, I began work on Canvas, which took approximately two years. I submitted it to Fantagraphics just as their financial difficulties were peaking, so they couldn't really help me. I applied for the Xeric, got it, and by that time Fantagraphics had gotten their head above water and agreed to distribute Canvas.

How did you come to have a relationship with Fantagraphics?

ALEX: Gary Groth called me after I'd sent him sample pages of "Blank State."

In the list of "Thank you's" in Canvas, you thanked "your government." Did you receive government art grants, and how did that help in the process of creating your books?

ALEX: My thanks to the government was an attempt at a joke, but the Canada Arts Council really is beginning to give more grants to comics. Chester Brown, Dave Collier, and Bernie Mireault have gotten them.

What was your childhood exposure to reading comics? In the notes in CANVAS, it says you've been doing your own comics since five, so what has been your education as a cartoonist? Are you self-taught or did you receive any formal training as a cartoonist, illustrator, or fine artist?

ALEX: I studied Fine Arts and 2-D Animation in school, but I've always done comics for myself, which is really how you learn. It's been my favorite way of expressing myself for as long as I can remember. My childhood work is really the best.

Who are the artists and cartoonists who've influenced you? Are their any current cartoonists that you follow closely?

ALEX: As a kid I read mostly Gaston by Franquin, Tintin by Hergé, and 1980's MAD Magazine, which was really good. They had all the best back then: Don Martin, Al Jaffee, Harvey Kurtzman, Mort Drucker, Paul Coker, Jack Davis and, of course, Dave Berg. Now, I read all the same ten alternative kings everybody else reads. The first alt-comic I bought was the issue of Hate that takes place at a comic-con. Big turning point for me.

Do you pay attention to the American comics mainstream (Marvel and DC superhero comics), or are you focused on other cartoonists like yourself, the so-called alternative or art comics cartoonists?

ALEX: Nothing from Marvel or DC, really. The stories and art seem to take themselves way too seriously. They're the musical equivalent of bands like Evanescence and Linkin Park. Also, I don't like seeing ads right in the middle of a comic, unless, y'know, Chris Ware did it.

What attracted you do the idea of telling a story about a young girl's awakening curiosity about sex? And is she really interested in the act of sex or is there more to it than that?

ALEX: I'm not sure. I started this comic some time ago, but I remember wanting the main character to not be a stand in for me, so I chose a 14 year old girl. Eventually, she became a bit more like me than I expected. I think she's curious about sex, but she's also under the influence of her friend, Alison, whom she wants to keep up with.

I avoid asking this, but what they heck. Why are her parents a pig and a frog?

ALEX: I really don't know. I thought it was funny. I also really like frogs and pigs. Some people mentioned Kermit and Miss Piggy, but I didn't realize that until I finished the book. It would've felt wrong for me to draw them as any other animals. It actually felt really wrong when I tried drawing them as humans.

Do you work ceaselessly on your dialogue? It seems awfully concise and evocative for someone still new to comics storytelling.

ALEX: Thanks. I write dialogue quite fast because, for me, it has to come out at the speed of conversation. If I labor too much on a phrase, I'll get afraid it sounds stilted and I'll scratch it. But drawing, obviously, is longer, so I constantly reread the dialogue while I draw. That's when I make changes.

Do you plan on returning to telling more tales of Canvas?

ALEX: If you'd asked me that as I was finishing the book, I would've said no. But now I'm seeing how it could be interesting to follow her life a few years down the line.

Are you planning on working on a regular comic book series or are you sticking with graphic novels?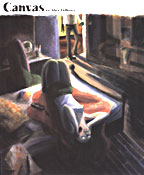 ALEX: Series are more risky, both financially and artistically, since you have to really grab a readership enough to bring them back 2 or 3 times a year. But that's how I want to release my next work.

What can we expect from you in the immediate future?

ALEX: A story that is much longer than Canvas, called The Unmoved, although that title might change. So far, it concerns traveling, hallucinating, stealing, and Satan. Look for it next year.

THANK YOU, Alex! I know that I'll be on the lookout for Alex's next book. In the meantime, you can visit Alex at his website www.alexcanvas.com. You can buy his books from your local comics shop, bookstore, or online from his publisher Fantagraphics Books at fantagraphics.com.
If you're a publisher or creator, contact me by hitting the clickable link. You can also read my movie reviews at www.negromancer.com. Holla!
Last Updated: September 6, 2021 - 08:15