Interview With Martin Cendreda
By LJ Douresseau
December 9, 2004 - 10:22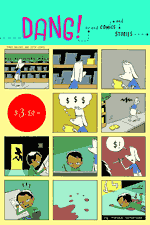 We have a short Mr. Charlie #42 for you this time. Our subject is cartoonist and animator, Martin Cendreda. Born and raised in Los Angeles, Cendreda's comics and illustrations have appeared in 1-UP, GIANT ROBOT, and DAZED AND CONFUSED, among other publications. Martin's first comic is DANG!, a 32-page comic (Diamond code: MAR042843) from Top Shelf Productions.
Martin has also worked on Comedy Central's "South Park" as an animator, and he was a Supervising Animator on the film, SOUTH PARK: BIGGER, LONGER & UNCUT. He was a Flash animator for Warner Bros. On-Line in the early 90's, and has been an instructor at UCLA. Let's begin the lessons, boys and girls:
Would you mind introducing yourself to the readers, maybe a little bio and professional information, whatever you want to divulge. PART B: Are you the same Martin Cendreda who was supervising animator on South Park: Bigger, Longer, Uncut? If so, what was that like working on a big animated film project. Would you like to do more? Do you still work on "South Park?"
MARTIN: A) My name is Martin Cendreda and I do a comic called DANG! I've been doing comics now for about 4 years, mostly my own minis, until just recently when Top Shelf published my comic. B)Yes, I worked on "South Park," a year on the TV show, then a year on the movie, then I left. It was fun working a big studio film, but it was a lot of work that didn't leave much time for anything else.
What kind of cartoons does Dang! contain? Is it a collection of strips and single panel gags? Does it have a future beyond the recently published issue?
MARTIN: Dang! started out as a mini that was just single panel gag cartoons. Then I did one that was a bunch of 4 panel strips. Then it mutated into the recent Top Shelf edition with Herbert and the orphans. I have more stories in my head involving these characters, so I hope to do more issues of it.
How important is "cartoons as comics" to you? Are comics a side project, while you focus on animation, or do you not see it as an either/or?
MARTIN: Comics are the most important to me, and I'd love to do it full-time, but for now, doing animation part-time helps pay the bills.
I noticed some Flash animation on your website. Without having to go in technical details, what are the advantages of Flash for an animator like yourself? Does Flash make it easier to show of your work to a lot of people?
MARTIN: Flash is a great program for traditional animators because you can draw, animate and paint all in one program. But you have to be careful because sometimes the animation can look very "computery." It's great for independent animators, who want to do their own cartoons and post them on the Internet. My friend Amy does a cartoon called Making Fiends. It gets millions of hits a day, and right now, she's talking to Nickelodeon about a possible project.
Who are the artists and cartoonists that influenced you?
MARTIN: Influences are (in no particular order): Charles Schulz, Los Bros. Hernandez, Calvin & Hobbes, the Smurfs, Dan Clowes, Chester Brown, Heathcliff by Geo. Gately, Gene Deitch, Mark Beyer.
Is there a Martin Cendreda ideology or central theme running through your work?
MARTIN: I'm sure there are some central themes that run through my work, but I'm not sure I've done enough work for the themes to be evident. This is probably a question better suited for a more objective person.
What's in the immediate future for you? What projects or appearances are coming?

MARTIN: Right now I'm getting ready for an art show at Giant Robot San Francisco. I recently finished strips for Project Superior and Strip America. I'm about to get started on a strip for the Drawn and Quarterly Showcase. And I've got some Dang! stories that I really wanna get started on soon as well. I guess that's all for now.
THANK YOU, Martin. You can purchase Dang! at your local comic shop or major book chain. You can also buy it and many other fine comix publications at www.topshelfcomix.com. Martin's website is www.zurikrobot.com where you can also see more of his work and view samples of his Flash animation.
If you're a publisher or creator, contact me by hitting the clickable link. You can also read my movie reviews at www.negromancer.com. Holla!
Last Updated: May 19, 2020 - 12:25