Comics / Spotlight / Black Astronaut
Chaos Campus: Sorority Girls vs Zombies #10
By Leroy Douresseaux
January 10, 2011 - 06:27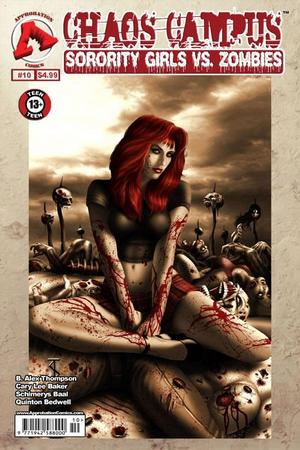 Chaos Campus Sorority Girls vs. Zombies #10 cover image
Chaos Campus: Sorority Girls vs. Zombies is a comic book series from Approbation Comics and creator B. Alex Thompson. Chaos Campus is a horror comic that follows the adventures of Jaime Schaeffer, Paige Patton, and Brittany Miller, who are three members of a sorority named Epsilon Alpha Zeta Upsilon (EAZY).
The terror begins on the night of a volleyball tournament between EAZY and its partner, Alpha Zeta Zeta. Zombies invade the EAZY sorority house. Jamie, Paige, and Brittany escape only to discover that zombies have taken over The City, and the trio is probably humanity's only hope to end this zombie apocalypse. Since their escape from the sorority, the girls have been on a series of crazy adventures that strangely resemble such classic horror movies as The Evil Dead and Hellraiser.
After escaping the clutches of the gamer demon, Nihilism, Brittany, Paige, and Jamie begin Chaos Campus: Sorority Girls vs. Zombies #10 on a lush world full of zombie corpses?! Muscular slasher Kurtis Kasey (created by Phantom Avri) still stalks them, but now they also have to deal with "Patient X."
As usual, B. Alex Thompson and company have produced another winning issue of Chaos Campus: Sorority Girls vs. Zombies. With art by Cary Lee Baker and references to Aliens, Dead of the Dead (1985), Resident Evil, Chaos Campus #10 finds a way to freshen a "Dead" concept. Chaos Campus is the kind of thing that isn't often done very well (certainly not done as often as some would thing). That thing is comic horror (or horror comedy), and these are zombies I enjoy seeing on a regular basis.
B+
Last Updated: February 5, 2023 - 09:06