Comics / Spotlight / Black Astronaut
Chaos Campus Survival Guide #0
By Leroy Douresseaux
July 30, 2009 - 14:26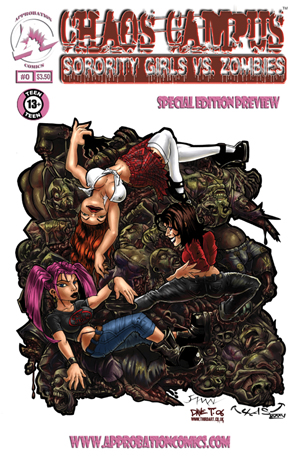 Chaos Campus Survival Guide #0 cover image
Zombies don't saturate the American pop culture landscape like vampires do, but I'm sure zombie films, books, and other media soon will. Hopefully, when they have their day (of the dead) in the sun, lovers of the living, walking, running, shambling dead will seek out Chaos Campus Survival Guide #0. This one-shot comic book is a tie-in to the Chaos Campus horror comic book series from Approbation Comics and its CEO and head writer, Bart A. Thompson.
Written by Thompson and drawn and colored by Jed Raven, Chaos Campus Survival Guide #0 is actually a mock survival guide produced in the comic book format. Three buxom, sorority girls (big-ass breasts, wide-load curvy hips, and baby-got-back ass): Jamie Schaffer, Brittany Miller, and Paige Patton use a classroom as the film set for their video shoots. In this conventional setting, the girls are stars of a video instructional series that gives the few remaining humans tips on how to survive the undead infestation.
This is some funny stuff. I got a review copy of this awhile ago, and I avoided reading it because, upon initial glance, it didn't appeal to me. Recently, the copy fell on the floor in front of me, and being of a superstitious and cowardly lot, I knew that this was a sign from Heaven/Hell to finally read it. And what a treat it was.
The humor is not snarky or edgy; it's just naturally funny. This is probably because Thompson and Raven seem to have hit a point where their creativity, imaginations, and intent are in synch. It's as if through his art, Raven knew exactly what Thompson was trying to get across to readers. Thompson has an ear and a feel for the rhythm in creating genuine humor out of violent horror concepts. Raven has a deft touch at creating humor comics, and it shows in his compositions and draftsmanship. It's a wonder Raven isn't producing comics for a mainstream publisher; he'd even fit in at DC Comics' Johnny DC imprint.
Every panel of Chaos Campus Survival Guide #0 is pitch-perfect and is funny. There are even fake advertisements for stuff like "Zombi-Thin" weight-loss pills and "Zombie O's" breakfast cereal. This is good work, and fans of comic horror and "mockumentaries" should try this.
A
Last Updated: September 6, 2021 - 08:15