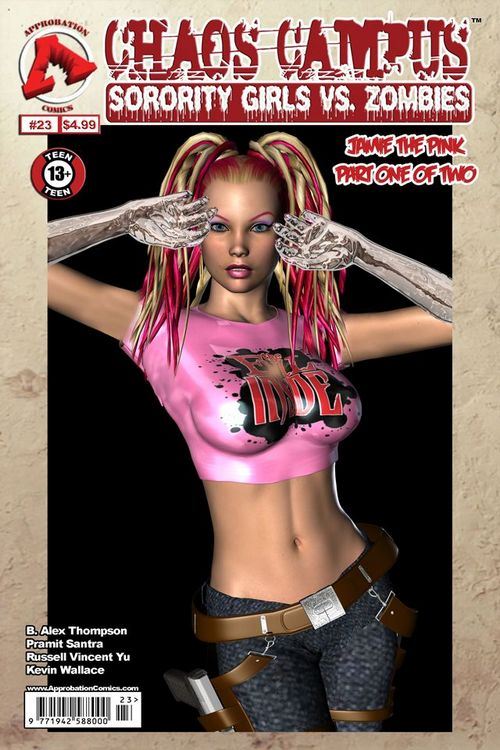 Chaos Campus: Sorority Girls vs. Zombies #23 cover image
Chaos Campus: Sorority Girls vs. Zombies created by B. Alex Thompson

"The Pink, Part 1 of 2"
The long-running
Chaos Campus: Sorority Girls vs. Zombies
is a horror-comedy and zombie apocalypse comic book series. It was created by
B. Alex Thompson
and is published by his company, Approbation Comics. The series is set during a zombie invasion and follows the adventures of three members of the sorority, Epsilon Alpha Zeta Upsilon (EAZY): ass-kickin'
Jaime Lynn Schaeffer
, brainy and magic-wielding
Paige Helena Patton
, and sexy
Brittany Ann Miller
.
The current story line is "The Pink," which finds the trio and other zombie riot survivors in a house that holds a surprise. This story is written by B. Alex Thompson; drawn by
Pramit Santra
; colored by
Schmerys Baal
and
Russell Vincent Yu
; and lettered by
Elisa M. Coletti
.
Chaos Campus: Sorority Girls vs. Zombies

#23
opens in the wake of the "Smart Zombies" conspiracy. On the run with four other survivors of that debacle, Jamie, Paige, and Brittany come upon a strange meteor after an even stranger meteor shower. Then, the group finds a house that is perfect as a shelter because it has not one, but two generators. However, Jamie has been acting strange since her encounter with the meteor, and the house also holds a shocking connection to her past.
THE LOWDOWN:
In the "Smart Zombies" story line, creator/writer B. Alex Thompson threw a left-hook at readers. Chaos Campus is a humorous spin on comic books, and it is a comic take of the zombie apocalypse. But (and its a big but) Chaos Campus offers good characters and an intriguing, evolving narrative. With the arrival of a smart zombie, Thompson showed that Chaos Campus will defy genre expectations by whatever means necessary and unnecessary.
Chaos Campus: Sorority Girls vs. Zombies #23 is funny, and I'm assuming that it is spoofing the Species film series. I really like the personal reveal, which is one more example of Thompson evolving our fearless zombie fighters. This remains a fantastic comic book, and I enjoyed reading it, although I am not crazy about the artist. Pramit Santra's graphical storytelling is good, but the technical aspects of the art is wanting, I must say. Still, I am ready for issue #24.
POSSIBLE AUDIENCE:
Fans of Sam Raimi's "Evil Dead" franchise will want to try
Chaos Campus: Sorority Girls vs. Zombies
.
A
8 out of 10